Date added: 28 February 2007
Swindon Robins Unite
Exciting partnership between Swindon Town and Swindon Speedway announced
At a press conference at the County Ground, representatives from both clubs - including Robins rider Leigh Adams in a Town kit and Reds midfielder Paul Evans in speedway leathers - spoke of the benefits of joining forces and the advantages of the tie-up for both sets of supporters.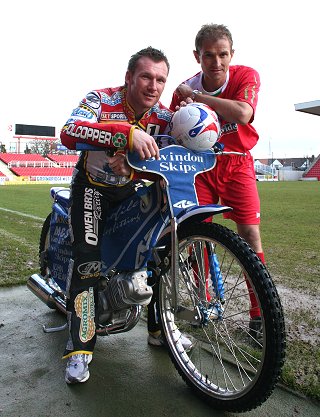 Swapping roles - but just for today!:


Paul Evans and Leigh Adams at the

The idea of which has been brought to fruition by Town Director and speedway fan, Mike Bowden.

"Swindon Town and Swindon Speedway have for many, many years been part of the heart and soul of the town and I have spent many hundreds of hours being wonderfully entertained at both The County Ground and The Abbey Stadium," he said.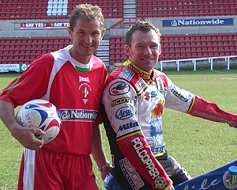 Riding High


STFC and Swindon Speedway press
conference incl. interviews with
Paul Evans and Leigh Adams
"It would be a memorable 2007 if Swindon Town FC gained promotion to League One and Swindon Speedway won the Elite League. I look forward to many joint activities between our two very proud clubs."
Benefits for both clubs include reciprocal advertising, joint publicity ventures, joint ticket offers, matchday promotions as well as ticket offers for STFC and Robins' Season Ticket Holders.
STFC are currently third in Coca-Cola League Two; the Swindon Speedway starts on 15 March.