Date added: 02 September 2008
Peterborough 52 Swindon 41
Swindon fall to a disappointing eleven point defeat away at Peterborough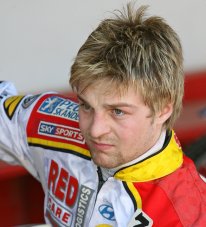 Korneliussen recovers after his
crash against Peterborough
The Swindon Robins' were left disappointed as they struggled away from home once again.
The Peterborough panthers took the victory with an easy eleven point lead.
Swindon were dealt a bitter blow in heat three though, when Mads Korneliussen was involved in a terrifying crash.
The Danish rider drifted into the fence and was flung from his machine in a horrendous manner.
Thankfully, after medical attention Korneliussen get to his feet but understandably withdrew from the remainder of the meeting with concussion.
Yet again, Leigh Adams provided the backbone of Swindon's performance as the dependable skipper notched a seventeen point haul.
The Australian received sturdy support from Jurica Pavlic who gleamed 12 points from his hectic seven rider schedule. Meanwhile, Troy Batchelor collected two heat victories as he contributed seven points whilst James Wright acquired paid six.
Peterborough Panthers
1. Ryan Sullivan (C) 3 1* 3 2 2 - - 11 (1)
2. Lukas Dryml 0 2 3 2* - - - 7 (1)
3. Kenneth Bjerre 3 2 3 X - - - 8
4. Henning Bager 2* 0 1 2* - - - 5 (2)
5. Danny King 1* 3 1 1* - - - 6 (2)
6. Ty Proctor 2* 1 0 3 - - - 6 (1)
7. Claus Vissing 3 2 1 1 - - - 7
Team Managers: Trevor Swales & Wayne Swales
Swindon Robins
1. Leigh Adams (C) 2 3 6! 3 3 - - 17
2. James Wright 1* 1 0 2* 0 - - 4 (2)
3. Mads Korneliussen X - - - - - - 0
4. Travis McGowan 1 0 0 - - - - 1
5. Troy Batchelor 0 3 3 0 1 - - 7
6. Joel Parsons 0 0 0 0 - - - 0
7. Jurica Pavlic 1 3 2 2 1 2 1 12
Team Manager Alun Rossiter
Heat Details:
Ht 1: Sullivan, Adams, Wright, Dryml f.rem (3-3)
Ht 2: Vissing, Proctor, Pavlic, Parsons (8-4)
Ht 3: Bjerre, Bager, McGowan, Korneliussen f.ex (13-5)
Ht 4: Pavlic, Vissing, King, Batchelor (16-8)
Ht 5: Adams, Bjerre, Wright, Bager (18-12)
Ht 6: Batchelor, Dryml. Sullivan, Parsons (21-15)
Ht 7: King, Pavlic, Proctor, McGowan (25-17)
Ht 8: Dryml, Pavlic, Vissing, Wright (29-19)
Ht 9: Batchelor, Bjerre, Bager, Parsons (32-22)
Ht 10: Sullivan, Dryml, Pavlic, McGowan (37-23)
Ht 11: ADAMS!,Wright, King, Proctor (38-31)
Ht 12: Bjerre, Pavlic, Vissing, Parsons (42-33)
Ht 13: Adams, Sullivan, King, Batchelor (45-36)
Ht 14: Proctor, Bager, Pavlic, Wright(TS) (50-37)
Ht 15: (re-run) Adams, Sullivan, Batchelor, Bjerre f.exc (52-41)
Wolverhampton, (h) Thusday 04 September
Sky Sports Elite League