Date added: 22 September 2008
Coventry 52 Swindon 43
It's looking like Lakeside for the Robins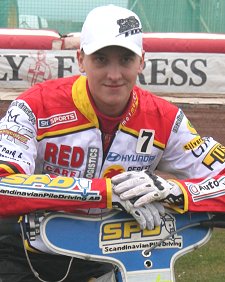 Suspected broken collar bone:
Swindon's regular Elite League campaign ended in dramatic fashion, as a combination of injury and dubious refereeing decisions helped the
Coventry Bees ride to a nine-point victory.
Heat eight was the final straw for Rosco, with Seb Alden lost to a suspected broken collar bone.
With Alden being forced to withdraw, a mid-meeting slump ensued as Swindon conceded three successive 5-1 heat advantages which saw Coventry roar to a commanding sixteen-point lead.
The Robins' score chart was headed by skipper Leigh Adams, who notched fifteen points, whilst James Wright contributed an impressive eight point score from a four ride schedule.
The eventual nine-point defeat means Swindon finish their regular Elite League campaign with 41 points, and are almost certain of an away trip to Lakeside in Monday's play-off semi-final.
Coventry Bees 52
1.Hans Andersen 3 2* 3 3 1* - 12 (2)
2. Olly Allen 0 2 3 3 2* - - 10 (1)
3. Chris Harris 2 3 3 3 3 2 - 16
4. Shane Parker 1* 0 2* 1 2 - - 6 (1)
5. Simon Stead R/R
6. Filip Sitera 3 1 0 1 1* - - 6 (1)
7. Ben Barker R 0 2* 0 - - - 2 (1)
Team Managers: Colin Pratt & Peter Oakes

Swindon Robins 43
1. Leigh Adams 2 2 6! 2 3 - - 15
2. James Wright 1* 1* 1 2* - - - 5 (3)
3. Jurica Pavlic 3 2 1 1* - - - 7 (1)
4. Troy Batchelor X R 0 4! 3 F - 7
5. Mads Korneliussen 1 T 0 0 - - - 1
6. Joel Parsons 1* 0 1 0 - - - 2 (1)
7. Sebastian Alden 2 3 1 X - - - 6

Ht 1: Andersen, Adams, Wright, Allen (3-3) 59.9
Ht 2: Sitera, Alden, Parsons, Barker (ret) (6-6) 61.4
Ht 3: Pavlic, Harris, Parker, Batchelor (f,exc) (9-9) 60.0
Ht 4: Alden, Allen, Korneliussen, Barker (11-13) 60.9
Ht 5: Harris, Adams, Wright, Parker (14-16) 59.9
Ht 6: Allen, Andersen, Alden, Parsons (19-17) 61.9
Ht 7: Harris, Pavlic, Sitera, Batchelor (ret) (23-19) 59.9
Ht 8: Allen, Barker, Wright, Alden (f,exc) (28-20) 60.0
Ht 9: Harris, Parker, Parsons, Korneliussen (33-21) 61.0
Ht 10: Andersen, Allen, Pavlic, Batchelor (38-22) 60.0
Ht 11: Adams TR!, Wright, Parker, Sitera (39-30) 60.9
Ht 12: Harris, Batchelor TS!, Pavlic, Barker (42-35) 61.0
Ht 13: Andersen, Adams, Sitera, Korneliussen (46-37) 61.4
Ht 14: Batchelor, Parker, Sitera, Parsons (49-40) 61.5
Ht 15: Adams, Harris, Andersen, Batchelor (f) (52-43) 60.0