Date added: 28 August 2008
Poole Pirates 58 Swindon Robins 35
Pirates deliver blow to Robins with 23-point defeat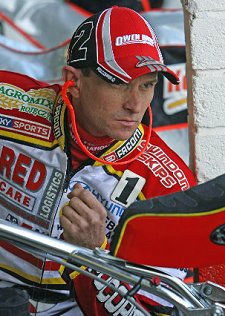 Swindon's poor 2008 record against Poole continued as the Robins were defeated at Wimbourne Road last night.
Skipper Leigh Adams topped the Swindon score sheet with a 14 point haul that included a tactical ride victory in heat eleven - after dropping his only point of the night in heat one, when Poole's number one Chris Holder blasted to victory.
Elsewhere, Travis McGowan and James Wright endured difficult evenings with both riders failing to score.
Poole dealt Swindon a body blow in heat twelve with a 5-1 from Bjarne Pederson and Daniel Davidsson - handing the Pirates a 15 point advantage on the night.
A controversial heat thirteen followed as meeting referee Chris Gay excluded Troy Batchelor for rolling at the start - despite not touching the tapes.

Richard Sweetman was brought in as a replacement in a re-run that was comfortably won by Leigh Adams.

Poole concluded the meeting in spectacular fashion with two successive 5-1 heat advantages which moved their overall tally on to fifty eight points.
Poole 58
1. Chris Holder 3 2* 3 2 2* - - 12 (2)
2. Magnus Zetterstrom 1 3 3 1 - - - 8
3. Bjarne Pedersen 3 2 3 3 3 - - 14
4. Adam Skornicki 1 1* 1 3 - - - 6 (1)
5. Davey Watt 0 2 2 1* - - - 5 (1)
6. Freddie Eriksson 1 1* 1 1* 2* - - 6 (3)
7. Daniel Davidsson 3 2 X 2* - - - 7 (1)

Swindon 35
1. Leigh Adams 2 3 6! 3 - - - 14
2. James Wright 0 0 0 - - - - 0
3. Mads Korneliussen 2 3 0 0 0 - - 5
4. Travis McGowan 0 0 0 - - - - 0
5. Troy Batchelor 3 1 2 X 1 - - 7
6. Richard Sweetman 0 0 0 0 - - - 0
7. Jurica Pavlic 2 1 2 2 0 1 1 9

Ht 1: Holder,Adams,Zetterstrom,Wright,58.20 (4-2)
Ht 2: Davidsson,Pavlic,Eriksson,Sweetman,59.87 (8-4)
Ht 3: Pedersen,Korneliussen,Skornicki,McGowan,59.39 (12-6)
Ht 4:(re-run) Batchelor,Davidsson,Pavlic,Watt,60.14 (14-10)
Ht 5: Adams,Pedersen,Skornicki,Wright,59.06 (17-13)
Ht 6: Zetterstrom,Holder,Batchelor,Sweetman,59.64 (22-14)
Ht 07: Korneliussen,Watt,Eriksson,McGowan,59.51 (25-17)
Ht 8: (re-run) Zetterstrom,Pavlic,Eriksson,Wright,59.49 (29-19)
Ht 9: Pedersen,Batchelor,Skornicki,Sweetman,59.45 (33-21)
Ht 10: Holder,Pavlic,Zetterstrom,Korneliussen,59.30(37-23)
Ht 11: Adams(TR),Watt,Eriksson,Pavlic,59.68 (40-29)
Ht 12: Pedersen,Davidsson,Pavlic,Korneliussen,60.13 (45-30)
Ht 13: (re-run) Adams,Holder,Watt,Sweetman,59.69(48-33)
Ht 14: Skornicki,Eriksson,Pavlic,McGowan, 60.55(53-34)
Ht 15: Pedersen,Holder,Batchelor,Korneliussen, 60.30(58-35)