Date added: 31 July 2008
Swindon Robins 49 Peterborough 44
Robins victorious over Panthers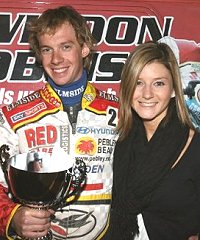 Swindon continued their winning ways tonight, with a comfortable win over the Peterborough Panthers.
An eventful fixture that saw James Wright earn man of the match, Krzysztof Stojanowski crash in heat twelve, and Troy Batchelor pull out of the meeting due to illness.
"We're delighted to have won tonight, although again we seem to slack in last few heats," commented team boss Alun Rossiter.
"We have to make sure we don't go to sleep against Poole next week otherwise we will be caught out," he added.
News was also announced that Jurica Pavlic's work permit formalities have now been completed.
The talented Croatian youngster will make his Robins debut on Monday 4 August in the away meeting against Wolverhampton.
"We're delighted that Pavlic will be joining the team on Monday," said Alun Rossiter.
"We hope Jurica will bring that something extra to the team that will see us gain a top place in the Elite League."

Swindon
1. Leigh Adams (c) 3 2* 3 3 - - - 11 (1)
2. James Wright 1 3 3 2* 2 - - 11 (1)
3. Mads Korneliussen 3 2* 3 1 0 - - 9 (2)
4. Travis McGowan 1 3 2* 1 - - - 7 (1)
5. Troy Batchelor 3 1 1 - - - - 5
6. Manuel Hauzinger (r) 0 0 0 0 - - - 0
7. Krysztof Stojanowski (r) 1 2* 1 2 0 - - 6 (1)
Team Manager: Alun Rossiter

Peterborough
1. Rory Schlein 2 1 3 2 3 - - 11
2. Claus Vissing 0 0 0 2* - - - 2(1)
3. Kenneth Bjerre 2 6! 0 3 1 - - 12
4. Henning Bager 0 2* 1 2* - - - 5 (2)
5. Daniel King (c) 1 1 1 1* - - - 4 (1)
6. Morten Risager (r) 2* 0 0 - - - - 2 (1)
7. Ryan Fisher (r) (guest) 3 F 2 X 3 - - 7
Team Managers: Trevor & Wayne Swales

Programme Changes:
Ht 7: Bjerre TR, Ht 12: Fisher replaces Risager, Ht 13: Stojanowski replaces Batchelor
Ht 1. Adams, Schlein, Wright, Vissing, 65.68 (4-2)
Ht 2: Fisher, Risager, Stojanowski, Hauzinger (r) 67.58 (5-7)
Ht 3: Korneliussen, Bjerre, McGowan, Bager 67.80 (9-9)
Ht 4: Batchelor, Stojanowski, King, Fisher (r) 67.59 (14-10)
Ht 5: (re-run) McGowan, Korneliussen, Schlein, Vissing 68.11 (19-11) Ht 6: Wright, Adams, King, Risager, 67.14 (24-12)
Ht 7: Bjerre TR, Bager, Batchelor, Hauzinger (25-20) 68.97
Ht 8: Wright, Fisher, Stojanowski, Vissing 66.52 (29-22)
Ht 9: Korneliussen, McGowan, King, Risager (34-23) 67.36
Ht 10: Adams, Wright, Bager, Bjerre (39-24) 67.21
Ht 11: Schlein, Vissing, Batchelor, Hauzinger (40-29) 66.30
Ht 12: (re-run) Bjerre, Stojanowski, Korneliussen, Fisher exc (43-32) 67.80
Ht 13: Adams, Schlein, King, Stojanowski (46-35) 66.11
Ht 14: Fisher, Bager, McGowan, Hauzinger (47-40) 68.02
Ht 15: Schlein, Wright, Bjerre, Korneliussen (49-44) 66.96
Sky Sports Elite League
Monday 4th August (a) Wolverhampton

Swindon Robins 49 Peterborough Panthers 44 - 01/08/2008