Date added: 13 June 2008
Swindon Robins 53 Eastbourne 39
New signing Manuel Hauzinger impresses all on his debut night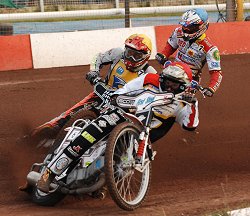 Manuel Hauzinger takes the
chequered flag in the opening race
The Robins romped to a conclusive 14-point success in the 'Battle of the Birds', as they again took over top spot in the Elite League standings, displacing Poole.
Meanwhile, new signing Manuel Hauzinger enjoyed a dream debut in winning his first ride in Swindon colours and ending the evening with a terrific 8 points to his name.

For the Eagles, Swindon asset Lee Richardson made an excellent return to his old stamping ground to notch 14 points, his tally enhanced by a second place finish from a tactical ride in heat seven.

The British No. 1, Nicholls, supplied top-end support to'Rico' and, although he only took the chequered flag in one race, the Ipswich-born rider carded 10+2 points.

However, Eastbourne's top duo lacked the necessary backing from their team-mates to have seriously challenged the Robins and the East Sussex side will have been generally disappointed with their overall showing.
SWINDON

Leigh Adams (C) 3 2* 2 3 - - - 10(1)
Seb Alden 0 3 0 0 - - - 3
Mads Korneliussen 3 2 3 1 X - -9
Travis McGowan 1 1* 2* 3 1 - - 8(2)
Troy Batchelor 3 3 1 R - - - 7
Manuel Hauzinger 3 1 3 1 - - - 8
James Wright 1 2* 2 3 - - - 8(1)
Team manager: Alun Rossiter
EASTBOURNE
Scott Nicholls 1* 3 2 2 2* - - 10 (2)
Lewis Bridger 2 F 3 0 - - - 5
Lee Richardson (C) 2 4 3 2 3 - - 14
Cameron Woodward 0 0 1 2 - - - 3
Edward Kennett 1 1 1 1* - - - 4 (1)
Simon Gustafsson X 0 1 0 0 - - 1
James Brundle 2 0 0 - - - - 2
Team manager: Trevor Geer
Referee: Graham Flint

Swindon Robins v Eastbourne - 13/06/2008