Date added: 20 June 2008
He must be Mads!
Speedway star gets a Swindon College makeover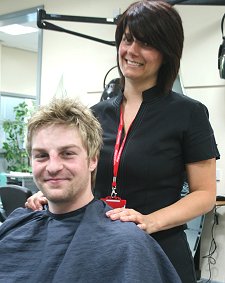 courtesy of
Level 3
Hairdressing
After narrowly missing out on a place in the Danish Grand Prix, Swindon Robins star Mads Korneliussen was just as shocked as boss Alun Rossiter.
And the only excuse they could find was that Mads' carefree approach to his appearance had let him down (it's no joke).
So Rosco packed him off to Swindon College for a day of pampering - with a manicure, pedicure and hair-do all part of the deal.
And despite early reservations, he seemed to enjoy himself.
"I normally don't like the 'English haircut' because they always do it too short, but I think she's done a good job.
"They'll all be laughing about me, but they called me Wurzel before so it can't get much worse!"
Rosco told us: "Mads' scruffy look can be the only reason for not making the GP.
"He's definitely got the ability, but his appearance let him down."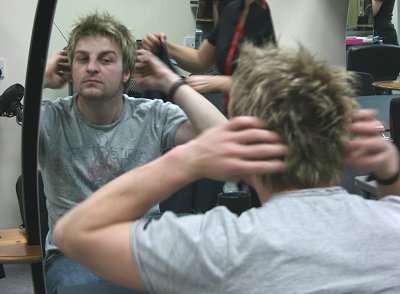 Doesn't he scrub up well!:
Mads admires his new look
And what about rumours that Rosco makes a trip to Poole every time he needs a trim?
"Yes, it's true. I've been going to Scotts Salon in Parkstone since 1989, when they sponsored me to ride for Poole," he admitted.
"They cut it so well that I wouldn't go anywhere else - and I still get it for free!"

Mads Korneliussen gets a makeover - 19/06/2008