Date added: 23 June 2008
Swindon 50 - Poole 40
Robins narrowly miss out on a place in the Knockout Cup semi finals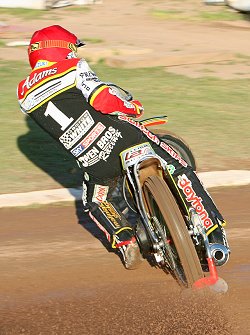 Leigh Adams races to victory in
heat one against Poole in Knockout
Cup Quarter Final Second Leg
Led for a second successive night by their superb skipper Leigh Adams, the Robins narrowly missed out on a place in the Knockout Cup semi finals but almost staged an incredible smash and grab raid in the latter stages.

For the majority of the meeting Swindon looked distinctly unlikely to overturn Poole's hefty thirteen point aggregate advantage.

But, a spectacular late meeting resurgence saw the Robins plunder a scintillating fourteen points from three races which handed them a ten point advantage entering heat fifteen.

The Pirates levelled the scores in race eleven through the Holder/Eriksson partnership; cue the Swindon fight back as truly sensational rides from James Wright and Mads Korneliussen in race eleven galvanized the Robins camp.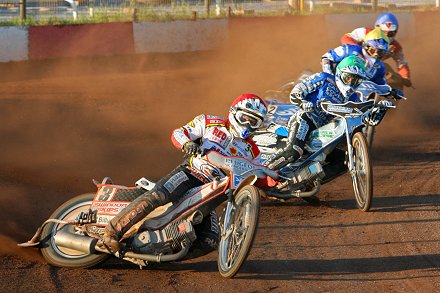 A second successive 5-1 ensued in race thirteen as Adams shepherded Wright home before the British youngster once again found himself in the thick of the action with a well worked 4-2 in race fourteen.

That set up a last heat decider and with Swindon requiring a 5-1 for overall victory Mads Korneliussen was unable to stamp his authority on the race and found himself phased out in the early stages.

Nevertheless it was a terrific effort from the Robins who will have been buoyed by their overall performance against the only side to win at Blunsdon this season.
Swindon 50
1. Leigh Adams (C) 3 3 3 2* 3 - - 14 (1)
2. Seb Alden 0 1* 2* 0 - - - 3 (2)
3. Mads Korneliussen 1* 3 3 1* 2* 0 – 10 (3)
4. Travis McGowan 2 0 2 2 3 - - 9
5. Troy Batchelor R/R SA, MK, TM, JW
6. Manuel Hauzinger X 0 0 - - - - 0
7. James Wright 2 2 3 0 3 3 1 14
Poole 40
1. Chris Holder 2 2 3 1 1* - - 9 (1)
2. Freddie Eriksson 1* 1* 2 1 - - - 5 (2)
3. Bjarne Pedersen (C) 3 1* 2 1 2 - - 9 (1)
4. Adam Skornicki 0 2 1* 2 - - - 5 (1)
5. Davey Watt 3 1 3 0 - - - 7
6. Jordan Frampton 1 0 X - - - - 1
7. Daniel Davidsson 3 0 1* 0 0 4 (1)