Date added: 27 June 2008
Wash out!
Waterlogged track postpones Robins' meeting against Wolves
Heavy rain ment the cancelllation of Swindon's Elite League B meeting against Wolverhampton last night.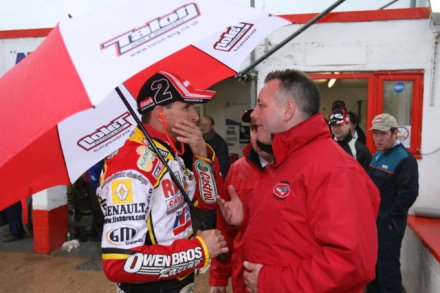 Heavy rain postpones meeting
against Wolves
But supporters won't be losing out.
All tickets purchased for last night's fixture will be valid for the next three home meetings - or the re-staging of the Wolves clash.
"It's disappointing, but the track is unridable," commented Robins' team manager Alun Rossiter.

Attentions now turn to Saturday's Speedway Grand Prix at Cardiff's Millennium Stadium when Robins' skipper Leigh Adams will be looking to collect his second GP win of the 2008 season in front of an expected 45,000 fans.