Date added: 30 June 2008
GP dream over for Adams
Robins skipper furious over referee's controversial decision
Swindon Speedway star Leigh Adams was left fuming as an unbelievable decision by referee Marek Wojaczek saw him robbed of a place in the British GP semi-final.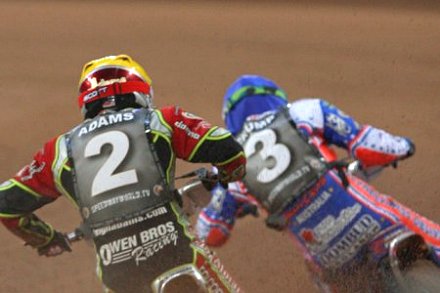 Adams closes in on meeting winner Jason Crump, in front
of a 45,000-strong crowd at the Millenium Stadium
The incident occured during the first corner of the fifth heat on Saturday, as Danish competitor Nicki Pedersen clipped the back of Adams - and unbelievably, Adams was shown the exclusion light.
Despite the set-back, the Aussie star collected seven points from his four programmed rides.
Adams excluded after controversial decision
Pederson, who still leads the championship table by 10 points, was later shown the exclusion light after an almost identical clash.
Aussie Jason Crump went on to win the meeting, and is set to stir up a storm at the semi-finals.
Current World Championship positions:


N.Pedersen 80,
J.Crump 70,
G.Hancock 64,
T.Gollob 62,
L.Adams 49,
H.Andersen 48,
A.Jonsson 46,
F.Lindgren 41,
R.Holta 39,
S.Nicholls 35,
N.K.Iversen 32,
C.Harris 30,
B.Pedersen 25,
K.Kasprzak 21, L.
Dryml 16

British Speedway GP at Millenium Stadium - 30/06/2008