Date added: 09 May 2008
Swindon Robins 49 Coventry Bees 43
Close call for Swindon Robins in last heat decider
On a glorious evening a large Blunsdon attendance witnessed Swindon collect a six point victory over a resolute Coventry side that wrestled the Robins into a last heat decider.

Despite trailing throughout the entire meeting the Bees fought back in the concluding stages and in doing so set up a tense climax to the meeting.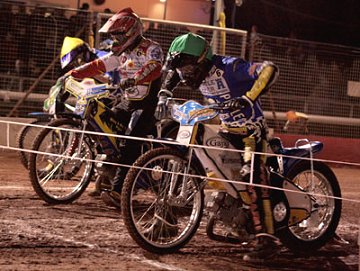 Robins manage to steal the win in heat fifteen
However, it was the Robins who prevailed as the Coventry attack fell apart in the concluding race and allowed Swindon to collect two more league points, in doing so bolstering their position at the top of the table.

As always, Leigh Adams contributed a thoroughly professional performance that saw him notch up a hefty fourteen point haul and deservedly collect the man of the match award.

Sky Sports Elite League 'A'
SWINDON
Leigh Adams (C) 3 2* 3 2 3 - - 13 (1)
James Wright 1 3 1* 0 - - - 5 (1)
Mads Korneliussen 3 2 3 3 - - - 11
Travis McGowan 1 1* 0 1 - - - 3 (1)
Troy Batchelor 2 3 3 0 2* - - 10(1)
Theo Pijper 1 0 0 - - - -1
Seb Alden 3 1* 2 0 0 - - 6 (1)
Team manager: Alun Rossiter
COVENTRY
Chris Harris(C) 2 3 4 3 X - - 12
Olly Allen r/r SB SB SS BJ
Rory Schlein 2 2 2 1* 1 - - 8 (1)
Billy Janniro 0 1* 1* 2*- - 5 (4)
Simon Stead 3 1 3 1* 1 - - 9 (1)
Stan Burza 0 X 0 0 - - - 0
Ben Barker 2 0 0 2 2 3 - 9
Team managers: Colin Pratt & Peter Oakes
Referee: D Robinson

Ht 1: (re-run)Adams, Harris, Wright, Burza (4-2) 64.99
Ht 2: Alden, Barker, Pijper, Burza f.ex (8-4) awarded
Ht 3: (re-run)Korneliussen, Schlein, McGowan, Janniro (12-6) 66.52
Ht 4: Stead, Batchelor, Alden, Barker (15-9) 66.46
Ht 5: Harris, Korneliussen, McGowan, Burza (18-12) 64.30
Ht 6: Wright, Adams, Stead, Barker (23-13) 66.70
Ht 7: Batchelor, Schlein, Janniro, Pijper, (26-16) 67.65
Ht 8: Stead, Alden, Wright, Burza (29-19) 66.99
Ht 9: Korneliussen, Barker, Stead, McGowan(32-22) 66.46
Ht 10: Adams, Schlein, Janniro, Wright (35-25) 66.30
Ht 11: Batchelor, Harris TR, Janniro, Pijper (38-30) 66.21
Ht 12: Korneliussen, Barker, Schlein, Alden (41-33) 66.17
Ht 13: Harris, Adams, Stead, Batchelor (43-37) 65.08
Ht 14: Barker, Janniro, McGowan, Alden (44-42) 67.36
Ht 15: Adams (R)Batchelor(B)Schlein(G)Harris(Y)ex (49-43) awarded