Date added: 12 May 2008
Adams victorious in Poland
Swindon Speedway star revs to victory in Grand Prix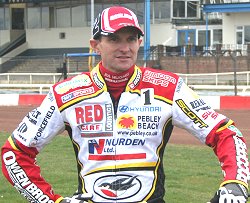 Swindon skipper Leigh Adams
Swindon Robins skipper Leigh Adams made his mark in Europe on Saturday evening - winning the second round of the Speedway Grand Prix in Poland.
The Aussie, who revved to victory in front of 24,000 spectators, now sits fourth overall in the table with 25 points - just eight behind current World Champion Nicki Pederson.
And despite being on the other side of Europe, the Robins hero still had a bit of Swindon supporting him - with boss Alun Rossiter there to see him reign champion.
Adams said: "I swapped machinery half way through the meeting and from that point on I was unstoppable.
"My Grand Prix campaign starts here, I've put the disappointing result in Slovenia to bed and I'm looking to develop the momentum I've gathered tonight."
Speedway GP Championship Table:
PEDERSEN, Nicki 33
GOLLOB, Tomasz 31
HANCOCK, Greg 28
ADAMS, Leigh 25
JONSSON, Andreas 21
ANDERSEN, Hans 20
CRUMP, Jason 18
Double whammy for the Robins


And that wasn't the only news Robins fans were celebrating this weekend - with the announcement that their new stadium plans have been accepted.
Government inspectors - who had been holding back the progress of the new Abbey stadium because of concerns over the building's new structure - have given the go-ahead for the development.
Speedway plans unveiled
Speedway fans and local residents have reacted positively to new proposals for the Abbey Stadium - with video...