Date added: 13 May 2008
Belle Vue Aces 47 Swindon Robins 43
Rosco fuming after Batchelor fined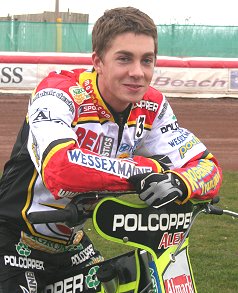 Batchelor left disappointed
It was a double whammy defeat for the Robins at Belle Vue last night.
A close call left them with another disappointing score, as they lost out by just four points.
And a controversial decision from referee Graham Flint in heat nine left the Robins disheartened, with Troy Batchelor walking away with a £600 fine.
Rosco said: "There is no getting away from the fact that it is a very disappointing result. We should have upped our game this evening but we have fallen short by just four points.
"Troy feels particularly aggrieved and is adamant that Charlie took him down in heat nine. I thought the referee made some very questionable decisions that I personally found hard to understand.
"That's racing though and we'll now turn our attentions to the Lakeside match on Thursday."

Belle Vue Aces
1. Jason Crump 3 3 3 2 3 - - 14
2. Tai Woffinden (G) 1 3 3 0 - - - 7
3. Charlie Gjedde 1 3 3 3 1 - - - 11
4. Lukasz Jankowski - TW,RK,RK,
5. Joe Screen (C) 1 3 2 1* 3 - - 10 (1)
6. Robert Ksiezak 0 0 0 1 0 - -0
7. Jonas Raun 2 0 0 0 0 - - 2
Team Manager: Chris Morton


Swindon Robins
1. Leigh Adams (C) 2 1* 3 3 2 - - 11 (1)
2. James Wright 0 2 2 1 - - - 5
3. Mads Korneliussen X 2 1* 2 - - 5 (1)
4. Travis McGowan 2 1 2 2 0 - - 7
5. Troy Batchelor 3 1 X 0 - - - 4
6. Theo Pijper 3 0 2 1* - - - 6 (1)
7. Seb Alden 1 2* 1* 1* - - - 5 (3)
Team Manager: Alun Rossiter
Referee: Graham Flint


Ht 1: Crump, Adams, Woffinden, Wright (4-2) 58.6
Ht 2: Pijper, Raun, Alden, Ksiezak (6-6) 62.2
Ht 3: (re-run) Woffinden, McGowan, Gjedde, Korneliussen f.ex (10-8) 59.4
Ht 4: Batchelor, Alden, Screen, Raun (11-13) 60.9
Ht 5: Gjedde, Wright, Adams, Ksiezak (14-16) 59.5
Ht 6: Crump, Woffinden, Batchelor, Pijper (19-17) 59.5
Ht 7: Screen, Korneliussen, McGowan, Ksiezak (22-20) 60.8
Ht 8: Woffinden, Wright, Alden, Raun (25-23) 59.7
Ht 9: Gjedde, Pijper, Ksiezak, Batchelor f.ex (29-25) 60.7
Ht 10: Crump, McGowan, Korneliussen, Woffinden f.rem (32-28) 59.6 Ht 11: Adams, Screen, Wright, Ksiezak (34-32) 59.8
Ht 12: Gjedde, Korneliussen, Pijper, Raun (37-35) 60.2
Ht 13: Adams, Crump, Screen, Batchelor, (40-38) 59.7
Ht 14: Screen, McGowan, Alden, Raun f.rem (43-41) 60.5
Ht 15: Crump(B) Adams (G) Gjedde (R) McGowan (Y) (47-43) 59.7