Date added: 16 May 2008
Swindon Robins 53 Lakeside Hammers 39
Batchelor and the boys sieze victory for the Robins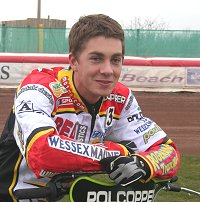 Troy Batchelor records his
first maximum of the
2008 season
Troy Batchelor was the star of the show as the Swindon Robins continues their two year unbeaten run at the Abbey Stadium.
Batchelor recording his first maximum this season, with Leigh Adams and Mads Korneliussen also on form.
The win extends the Robins' lead at the top of the Sky Sports Elite League to three points.
The Robins next fixture is at home to Poole on Thursday 22 May.
Sky Sports Elite League 'B'
Swindon

1. Leigh Adams (C) 3 3 3 2* 2* - - 13 (2)
2. James Wright 0 1 1 1 - - - 3
3. Mads Korneliussen 3 3 3 2 - - - 11
4. Travis McGowan 2* 0 1 3 - - - 6 (1)
5. Troy Batchelor 3 3 3 3 3 - - 15
6. Theo Pijper 0 1 0 - - - - 1
7. Seb Alden 3 0 0 0 1 - - 4
Team Manager: Alun Rossiter
Lakeside
1. Andreas Jonsson 2 1* 2 1 1 - - 7 (1)
2. Leigh Lanham 1* 2 3 1* - - - 7 (2)
3 .Adam Shields (C) 1 2 2 3 0 - - 8
4. Lubos Tomicek 0 0 0 - - - - 0
5. Jonas Davidsson 2 2 2 0 - - - 6
6. Ricky Kling 1* 0 1 0 - - - 2(1)
7. Joonas Kylmakorpi 2 1* 2* 0 4! - - 9 (2)
Team Manager: Jon Cook

Referee: Graham Reeve

Programme Changes:
Ht 9: Kylmakorpi replaces Kling
Ht 14: Alden replaces Pijper, Kling replaces Tomicek, Kylmakorpi T/R
Ht 1: Adams, Jonsson, Lanham, Wright (3-3) 65.58
Ht 2: Alden, Kylmakorpi, Kling, Pijper (6-6) 68.56
Ht 3: Korneliussen, McGowan, Shields, Tomicek (11-7) 66.80
Ht 4: Batchelor, Davidsson, Kylmakorpi, Alden (14-10) 66.05
Ht 5: Korneliussen, Lanham, Jonsson, McGowan (17-13) 66.17
Ht 6: Adams, Davidsson, Wright, Kling (21-15) 65.86
Ht 7: Batchelor, Shields, Pijper, Tomicek, (25-17) 66.05
Ht 8: Lanham, Kylmakorpi, Wright, Alden (26-22) 67.42
Ht 9: Korneliussen, Davidsson, McGowan, Klymakorpi (30-24) 65.83 Ht 10: Adams, Shields, Wright, Tomicek (34-26) 65.70 Ht 11: Batchelor, Jonsson, Lanham, Pijper (37-29) 66.46 Ht 12: Shields, Korneliussen, Kling, Alden (39-33) 67.58 Ht 13: Batchelor, Adams, Jonsson, Davidsson (44-34) 65.45 Ht 14: McGowan, Klymakorpi TR, Alden, Kling (48-38) 67.61 Ht 15: Batchelor (B) Adams (R) Jonsson (Y) Shields (G) (53-39) 65.77