Date added: 23 May 2008
Swindon Robins 39 Poole 51
Home defeat slips the Robins to third position in the Sky Sports Elite League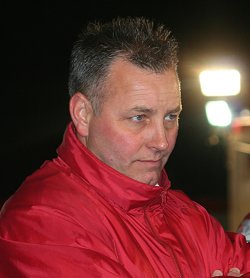 Alun Rossiter dissapointed following
Swindon's hammering at
The Robins' two-year unbeaten home record was broken last night.
A below par Swindon performance was punished by a resurgent Poole side who exploited the Robinsí weaknesses and collected a deserved 12 point victory.

Alun Rossiterís men never looked likely to halt the spirited Poole attack and were unable to match the speed and gating prowess of the Dorset side.


"All I can say is how disappointed I am," said team boss Alun Rossiter.

"We knew Poole would provide strong opposition and that proved to be the case. Itís clear that certain riders didnít do well enough this evening and the performances they are currently contributing just arenít good enough.

Iíll spend plenty of time reflecting on tonight and making sure the same mistakes arenít made again this season."
The Robin's next Elite League fixture is away to Wolverhampton on 02 June 2008.
Sky Sports Elite League 'B'
Swindon
1. Leigh Adams 2 3 3 1* 1 - - 10 (1)
2. James Wright 1* 1 0 - - - - 2 (1)
3. Mads Korneliussen 0 2 3 2 3 - - 10
4. Travis McGowan 1 0 0 0 - - - 1
5. Troy Batchelor 2 3 2 2 0 - - 9
6. Theo Pijper 0 1 0 - - - - 1
7. Seb Alden 3 0 3 0 0 - - 6
Team Manager: Alun Rossiter
Poole
1. Krzysztof Kasprzak 3 2* 3 3 3 2 Ė 16 (1)
2. Freddie Eriksson 0 1 1* 1* 1 - - 4 (2)
3. Chris Holder R/R KK, DW, FE, MZ
4. Magnus Zetterstrom 3 X 2 3 3 1* - - 12 (1)
5. Davey Watt 3 2 2 1* 0 - - 8 (1)
6. Daniel Davidsson 1* 0 2 - - - - 3 (1)
7. Adam Skornicki 2 1 2 1 2* - - 8 (1)
Team Manager: Neil Middleditch
Referee: Jim McGregor
Programme Changes:
Ht 3: R/R Kasprzak, Ht 7: R/R Watt, Ht 10: Alden replaces Wright R/R Eriksson, Ht 12: R/R Zetterstrom, Skornicki replaces Davidsson, Ht 14: Adams TS replaces Pijper