Date added: 30 May 2008
British Final at the Abbey Stadium
Wright reaches final six but Nicholls takes victory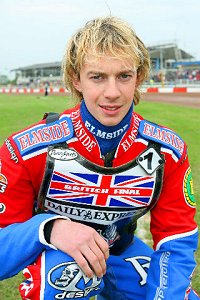 James Wright finishes top six
in the British Speedway Final
The home fans were kept on their toes by the sturdy performance of Swindon rider James Wright who rode well to earn a spot in the top six in the British Final last night.
Although the youngster was unable to progress further after a poor start from the gate one position, the rider was content with his contribution.
"I was delighted with what I did in the meeting," commented the 21- year-old, "It's just frustrating I didn't progress further."
"I've definitely qualified for the GP qualifying next year - but I've missed out on the reserves for the GP in Cardiff so that is disappointing."
In the end Scott Nicholls took victory and collected his fifth British Championship.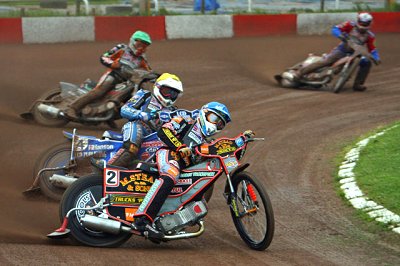 Scott Nicholls makes it his fifth British Championship

Edward Kennet collected second place on the night and is therefore through to the British Grand Prix in Cardiff as a Wild Card entry.

But what impressed the Abbey crowds throughout the night was the scintillating performance of 17-year-old Tai Woffinden.
Exciting news for the Robins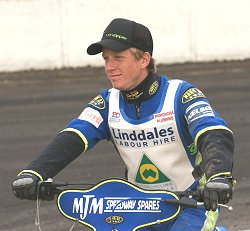 Richard Sweetman joins
the Swindon Robins
Last night Speedway boss Alun Rossiter confirmed the signing of highly rated Australian youngster Richard Sweetman.

The 17-year-old is scheduled to arrive in Britain early next month and will spend the remainder of the 2008 season on loan at a Premier league club.

He has achieved plenty in his short career including victories in the 2007 Australian long track title and 2007 New South Wales Under 21 title.

Sweetman was the target of many British clubs and Swindon team manager Alun Rossiter is thrilled to have captured the Australianís signature.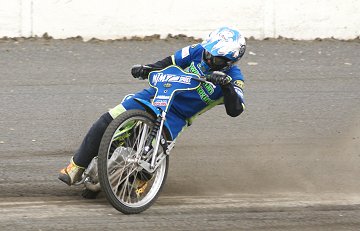 17-year-old all-set to impress at the Abbey

"This signing continues our policy of recruiting talented young riders as we keep one eye firmly fixed on the future," said Rossiter.
"Our hard work over the past few seasons now means we have established ourselves as a desirable club for riders looking to establish their careers.

"We envisage Richard playing a big part in our future and are thoroughly excited about welcoming him to Britain."