Swindon Robins 46 Poole Pirates 44
Travis the star but Robins bow out in a dramatic night at the Abbey
The Swindon Robins were eliminated from the Craven Shield last night despite a dramatic last-heat win by star rider Leigh Adams.
The Aussie skipper grabbing maximum points in heat 15 to give Swindon a 46-44 win - but the meeting was overshadowed by a serious injury to teammate Theo Pijper.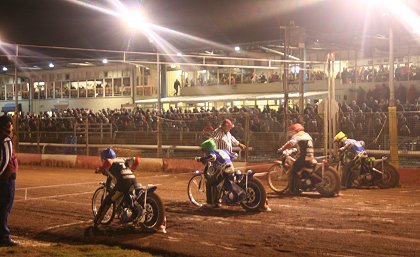 Swindon Robins lining up against Poole Pirates last night
The 28-year-old rider breaking a collar bone and dislocating a thumb in a horror smash in heat 11.
Scans at the Great Western Hospital confirmed his injuries and it nows looks like Pijper will be on the sidelines for the next six weeks at best.
The incident in effect ended any hope the Robins had of pegging back a 15 point deficit from the first-leg defeat at Poole on Wednesday.
In a night of few positives, newcomer Travis McGowan did, however, demonstrate the potential seen by manager Alun Rossiter in pre-season.
A paid 10 score just rewards from some brave riding and a performance that deserved the Rider-of-the-Night award - sponsored by yours truly, SwindonWeb.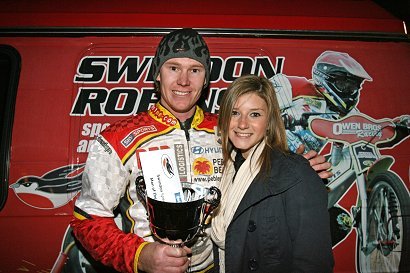 Robins' star man Travis McGowan receives the trophy
from SwindonWeb's Kirsty Heber-Smith
"Travis rode his heart out tonight," said SwindonWeb's Kirsty Heber-Smith, who presented the trophy.
"And you can't ask for more than that."
The new Elite League season starts for the Robins on 03 April, when Belle Vue visit the Abbey.

Swindon Robins v Poole Pirates - Craven Shield - 27/03/2008