Date added: 04 April 2008
Swindon Robins 49 Belle Vue 43
The Swindon Robins take victory at the first Sky Sports Elite League fixture
The Robins bagged their first Sky Sports Elite League points of the 2008 season with a well-deserved victory over a Belle Vue septet that simply refused to throw in the towel.

Swindon held the ascendancy throughout, but were unable to stretch their lead past 8 points at any stage.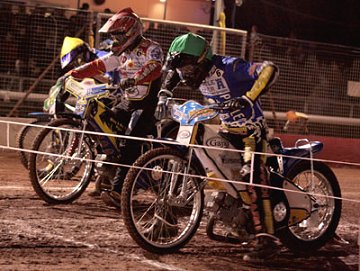 Robins take victory against the Belle Vue Aces
As always, star rider Leigh Adams provided the foundation on which Swindon constructed their success.

The legendary Australian recovered from an opening heat defeat at the hands of Jason Crump by overcoming the two-time World Champion in scintillating heat thirteen and fifteen duels.

The former, in particular, was an early contender for race of the season as the two stalwarts of Australian speedway indulged in an absorbing duel in which there was never more than a bike's length between them.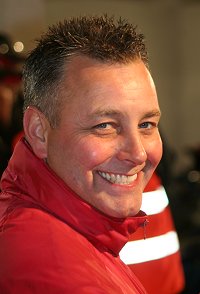 Robins' boss Alun Rossiter
It was a real master class in top quality speedway racing that was replicated in heat fifteen, as Adams again successfully repelled an intense challenge from Crump, who utilized the array of racing lines that a grippy surface offered.
The heat thirteen clash of the Aussies certainly lived up to expectations, with Adams just getting the better of Crump in an absorbing four-lap duel.
"It's a great start to the Elite League season," said Robins boss, Alun Rossiter.
"We're getting stronger and stronger every meeting, and although we didn't take the victory by a great lead we know the team has the combination to win."
SWINDON
Leigh Adams (C) 2 3 3 3 3 - - 14
James Wright 1* 1 3 0 - - - 5 (1)
Troy Batchelor 0 1* 3 3 - - - 7 (1)
Mads Korneliussen 2 2 2* 3 0 - - 9 (1)
Travis McGowan 2 0 2 0 - - - 4
Cory Gathercole 2* 1 0 - - - - 3 (1)
Seb Alden 3 1* 2* 1 R - - 7 (2)
Team manager: Alun Rossiter
BELLE VUE
Jason Crump 3 3 3 2 2 - - 13
Billy Forsberg 0 0 1 1 - - - 2
Charlie Gjedde 3 3 2 2 4 1* - 15 (1)
Lukasz Jankowski 1 2* 1* 1* - - - 5 (3)
Joe Screen (C) 3 2 1 1* - - - 7 (1)
Michal Rajkowski 0 0 0 0 - - - 0
Robert Ksiezak 1 0 0 - - - - 1
Team manager: Chris Morton
Referee: Christina Turnbull
HEAT DETAILS
Ht 1: (Re-Run) Crump, Adams, Wright, Forsberg, 65.05 (3-3)
Ht 2: Alden, Gathercole, Ksiezak, Rajkowski, 68.40 (8-4)
Ht 3: (Re-Run) Gjedde, Korneliussen, Jankowski, Batchelor, 66.99 (10-8)
Ht 4: Screen, McGowan, Alden, Ksiezak, 68.77 (13-11)
Ht 5: Crump, Korneliussen, Batchelor, Forsberg, 65.40 (16-14)
Ht 6: (Re-Run) Adams, Screen, Wright, Rajkowski, 66.24 (20-16)
Ht 7: Gjedde, Jankowski, Gathercole, McGowan, 67.77 (21-21)
Ht 8: Wright, Alden, Forsberg, Ksiezak, 67.06 (26-22)
Ht 9: Batchelor, Korneliussen, Screen, Rajkowski, 66.74 (31-23)
Ht 10: Adams, Gjedde, Jankowski, Wright, 67.06 (34-26)
Ht 11: Crump, McGowan, Forsberg, Gathercole (f, rem), 65.87 (36-30)
Ht 12: Batchelor, Gjedde, Alden, Rajkowski, 66.36 (40-32)
Ht 13: Adams, Crump, Screen, McGowan, 65.02 (43-35)
Ht 14: Korneliussen, Gjedde (TS), Jankowski, Alden (ret), 66.65 (46-40)
Ht 15: (Nominated) Adams (r), Crump (g), Gjedde (y), Korneliussen (b), 65.74 (49-43)
Thursday 10 April 2008
Sky Sports Elite League