Date added: 15 April 2008
Ipswich Witches 43 Swindon Robins 50
Swindon seal unlikely comeback in Elite League thriller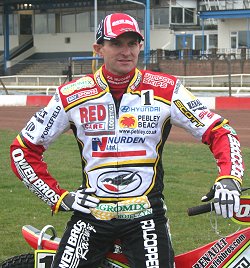 Alun Rossiter was smiling all the way home to Swindon last night after seeing his Robins Speedway team record their first away win of the 2008 Elite League season.
Star rider Leigh Adams once again the hero - recording 17 points - ably supported by Mads Korneliussen (paid 11).
The Robins staging a comeback from 10 points down after four races.
"I couldn't be more pleased with my riders out there," Rossiter beamed.
"We were magnificent when under the greatest of pressure early on."
IPSWICH
Robert Miskowiak 3 3 F 1* - - - 7 (1)
Piotr Swiderski 0 0 1* 1 - - - 2 (1)
Chris Louis 3 1* 3 3 1 - - 11 (1)
Steve Johnston 2* 2 X 0 - - - 4 (1)
Jaroslaw Hampel 3 3 2 2 0 - - 10
Chris Schramm 1 0 T 1 - - - 2
Tobias Kroner 3 2* 2 X 0 - - 7 (1)
Team manager: Pete Simmons

SWINDON
Leigh Adams (C) 2 6 3 3 3 - - 17
James Wright 1* 0 3 1 - - - 5 (1)
Troy Batchelor 1 1* 2* 2 - - - 6 (2)
Mads Korneliussen 0 2 3 3 2* - - 10 (1)
Travis McGowan 1 2 2 0 - - - 5
Joel Parsons 2 1* 1* 1* 2* - - 7 (4)
Seb Alden 0 0 0 - - - - 0
Team manager: Alun Rossiter
Referee: Chris Gay

Ht 1: (Re-Run) Miskowiak, Adams, Wright, Swiderski (15 met), 61.3 (3-3)
Ht 2: Kroner, Parsons, Schramm, Alden, 62.0 (7-5)
Ht 3: Louis, Johnston, Batchelor, Korneliussen, 62.7 (12-6)
Ht 4: Hampel, Kroner, McGowan, Alden, 61.5 (17-7)
Ht 5: Adams (TR), Johnston, Louis, Wright, 61.2 (20-13)
Ht 6: Miskowiak, McGowan, Parsons, Swiderski (f, rem), 62.6 (23-16)
Ht 7: (Re-Run) Hampel, Korneliussen, Batchelor, Schramm, 61.8 (26-19)
Ht 8: Wright, Kroner, Swiderski, Alden, 62.1 (29-22)
Ht 9: (Awarded) Louis, McGowan, Parsons, Johnston (f, ex), No Time (32-25)
Ht 10: Korneliussen, Batchelor, Swiderski, Miskowiak (fell), 61.9 (33-30)
Ht 11: (Re-Run twice) Adams, Hampel, Wright, Kroner (f, ex), Schramm (ex, tapes), 61.3 (35-34)
Ht 12: Louis, Batchelor, Parsons, Kroner, 62.1 (38-37)
Ht 13: Adams, Hampel, Miskowiak, McGowan, 62.3 (41-40)
Ht 14: Korneliussen, Parsons, Schramm, Johnston, 63.4 (42-45)
Ht 15: (Nominated) Adams (g), Korneliussen (y), Louis (b), Hampel (r), 61.1 (43-50)