Date added: 18 April 2008
Swindon Robins 45 Ipswich Witches 45
Robins secure a draw despite Mads' absence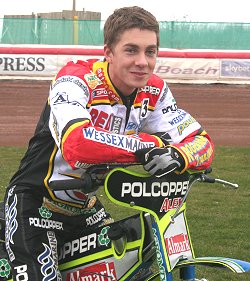 Troy Batchelor seizes a point
for the
Robins, after a gruelling
final heat with Leigh Adams
It was a close call for Rossiter's speedway stars last night, as they managed to secure a draw at the Abbey Stadium following on from a 50-43 away win at Ipswich on Monday night.
After tense heats throughout the evening, the Swindon Robins managed to pull back 5-1 in the last heat.
Missing from the Robins side was Mads Korneliussen, who was nursing heavy bruising from a guest appearance for Poole the previous evening.
And although the side struggled in Mads' absence, Batchelor and Adams managed to pull back and rescue a precious league point.
SWINDON
Leigh Adams (C) 3 2* 3 3 2* - - 13 (2)
James Wright 0 1 3 2 1 - - 7
Troy Batchelor 2 1 2 3 3 - - 11
Travis McGowan 0 3 0 2 0 - - 5
Mads Korneliussen R/R
Cory Gathercole 0 0 0 - - - - 0
Seb Alden 1 3 1 R 0 1 3 9
Team manager: Alun Rossiter

IPSWICH
Robert Miskowiak 2 2 3 1 0 - - 8
Chris Holder 1* 0 3 3 2 0 - 9 (1)
Chris Louis (C) 1 3 0 2 - - - 6
Steve Johnston 3 1 2* 2 1* 1 - 10 (2)
Jaroslaw Hampel R/R
Tobias Kroner 3 2 0 1 1* 2 - 9 (1)
Chris Schramm 2* 0 1 - - - - 3 (1)
Team manager: Pete Simmons
Referee: Phil Griffin

Ht 1: Adams, Miskowiak, Holder, Wright, 65.77 (3-3)
Ht 2: Kroner, Schramm, Alden, Gathercole (f, rem), 67.52 (4-8)
Ht 3: Johnston, Batchelor, Louis, McGowan, 67.46 (6-12)
Ht 4: Alden, Kroner, Wright, Schramm, 67.34 (10-14)
Ht 5: McGowan, Miskowiak, Batchelor, Holder, 66.96 (14-16)
Ht 6: Wright, Adams, Johnston, Kroner, 66.34 (19-17)
Ht 7: Louis, Johnston, Alden, Gathercole, 67.52 (20-22)
Ht 8: Holder, Wright, Schramm, Alden (ret), 66.11 (22-26)
Ht 9: Miskowiak, Batchelor, Kroner, McGowan, 67.77 (24-30)
Ht 10: Adams, Johnston, Wright, Louis, 67.33 (28-32)
Ht 11: Holder, McGowan, Miskowiak, Gathercole, 66.96 (30-36)
Ht 12: Batchelor, Louis, Kroner, Alden, 67.18 (33-39)
Ht 13: Adams, Holder, Alden, Miskowiak, 67.17 (37-41)
Ht 14: Alden, Kroner, Johnston, McGowan, 68.08 (40-44)
Ht 15: (Nominated) Batchelor (b), Adams (r), Johnston (g), Holder (y), 66.02 (45-45)