Date added: 25 April 2008
Swindon Robins 50 Wolverhampton Wolves 42
Robins firm leaders of Elite League after another success at the Abbey Stadium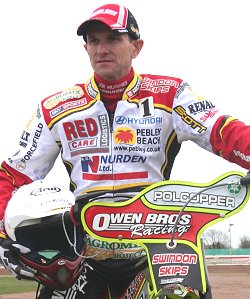 Swindon Robins recovered from a mid-heat crisis to cement their position at the top of the Sky Sports Elite League - four points ahead of second place Eastbourne.
Korneliussen and Adams followed by McGowan and Alden recording back-to-back 5-1s in heats 13 and 14 to finally see off a spirited display from Wolverhampton, who themselves recorded 5-1s in heats 7 and 8.
Skipper Leigh Adams once again led the way with a paid maximum, his tally of 14+1 points being the 96th unbeaten tally of his illustrious Swindon career (47 full and 49 paid).
"You've got to hand it to them," said Robins manager Alun Rossiter.
"The team pulled through when we needed to. And that's a great sign for the future."
SWINDON
Leigh Adams (C) 3 3 3 2* 3 - - 14 (1)
James Wright 1 1 1* 0 - - - 3 (1)
Troy Batchelor 2 3 3 1 - - - 9
Travis McGowan 1* 2* 1 3 0 - - 7 (2)
Mads Korneliussen 3 2 1 3 - - - 9
Tomas Suchanek 0 1* 2 0 - - - 3 (1)
Seb Alden 3 0 T 0 2* - - 5 (1)
Team manager: Alun Rossiter

WOLVERHAMPTON
Fredrik Lindgren (C) 2 1 4 2* 1 1* - 11 (2)
Ales Dryml 0 0 0 - - - - 0
Niels-Kristian Iversen 3 X 2 3 2 - - 10
Kenneth Hansen R/R
David Howe 2 2 0 0 - - - 4
Christian Hefenbrock 1* 0 0 2* 0 - - 3 (2)
Nicolai Klindt 2 1* 3 3 1* 3 1 14 (2)
Team manager: Peter Adams
Referee: Dave Watters (Trainee: John Homer)

Ht 1: Adams, Lindgren, Wright, Dryml, 65.68 (4-2)
Ht 2: Alden, Klindt, Hefenbrock, Suchanek, 67.71 (7-5)
Ht 3: Iversen, Batchelor, McGowan, Hefenbrock, 65.27 (10-8)
Ht 4: Korneliussen, Howe, Klindt, Alden, 67.02 (13-11)
Ht 5: Batchelor, McGowan, Lindgren, Dryml, 66.42 (18-12)
Ht 6: Adams, Howe, Wright, Hefenbrock, 65.96 (22-14)
Ht 7: (Re-Run) Klindt, Korneliussen, Suchanek, Iversen (f, ex), 66.80 (25-17)
Ht 8: (Re-Run) Klindt, Suchanek, Wright, Dryml, Alden (ex, tapes), 67.08 (28-20)
Ht 9: Batchelor, Lindgren (TS), McGowan, Howe, 66.68 (32-24)
Ht 10: Adams, Iversen, Klindt, Wright, 66.30 (35-27)
Ht 11: Klindt, Lindgren, Korneliussen, Suchanek, 65.84 (36-32)
Ht 12: Iversen, Hefenbrock, Batchelor, Alden, 65.83 (37-37)
Ht 13: Korneliussen, Adams, Lindgren, Howe, 67.97 (42-38)
Ht 14: McGowan, Alden, Klindt, Hefenbrock, 67.64 (47-39)
Ht 15: (Nominated) Adams (b), Iversen (g), Lindgren (y), McGowan (r), 65.86 (50-42)