Date added: 29 April 2008
Swindon Robins 56 Eastbourne Eagles 37
Rosco's boys put on the performance of the season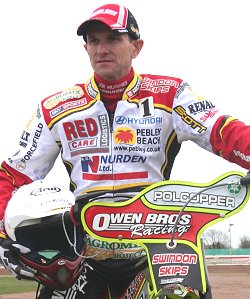 Leigh Adams blows out the candles
Swindon Robins took on the Eastbourne Eagles at the Abbey Stadium last night, clinching an impressive 56-37 victory.
Birthday boy Leigh Adams kicked off the campaign with a comfortable win in heat one, alongside youngster James Wright.
An outstanding ride from Korneliussen in heat seven saw him pass both Eastbourne riders on the home straight of lap one - including ex-Robin Lee Richardson.
Despite this top of the table clash being hailed as their most difficult yet, it's the best win of the season for Rosco's boys.
The result puts the Robins 6 points clear at the top of the Elite League.
They now have a five-day break from action before taking on the Eagles at home on 3rd May.
SWINDON
Leigh Adams (C) 3 2* 3 2 3 - - 13 (1)
James Wright 1 3 2* 2* - - - 8 (2)
Troy Batchelor 2* 2 3 3 2* - - 12 (2)
Travis McGowan 3 0 1 0 - - - 4
Mads Korneliussen 2 3 2 1* - - - 8 (1)
Cory Gathercole 2* 0 0 1 - - - 3 (1)
Seb Alden 3 1* 3 1 - - - 8 (1)
Team manager: Alun Rossiter

EASTBOURNE
Scott Nicholls 2 6 3 3 1 - - 15
Lewis Bridger 0 1 R 1 - - - 2
Lee Richardson (C) R 2 1 2 - - - 5
Cameron Woodward 1 1* 0 2* 0 - - 4 (2)
Edward Kennett 3 X 2 0 - - - 5
Simon Gustafsson 1 1 1 0 3 - - 6
Andrew Bargh 0 0 R - - - - 0
Team manager: Trevor Geer
Referee: Ronnie Allan

Ht 1: Adams, Nicholls, Wright, Bridger, 65.79 (4-2)
Ht 2: Alden, Gathercole, Gustafsson, Bargh, 68.48 (9-3)
Ht 3: McGowan, Batchelor, Woodward, Richardson (ret), 67.65 (14-4)
Ht 4: Kennett, Korneliussen, Alden, Bargh, 66.51 (17-7)
Ht 5: Nicholls (TR), Batchelor, Bridger, McGowan, 66.04 (19-14)
Ht 6: (Re-Run) Wright, Adams, Gustafsson, Kennett (f, ex), 65.88 (24-15)
Ht 7: Korneliussen, Richardson, Woodward, Gathercole, 65.77 (27-18)
Ht 8: Alden, Wright, Gustafsson, Bridger (ret), 67.42 (32-19)
Ht 9: Batchelor, Kennett, McGowan, Bargh (ret), 66.67 (36-21)
Ht 10: Adams, Wright, Richardson, Woodward, 67.25 (41-22)
Ht 11:(Re-Run) Nicholls, Korneliussen, Bridger, Gathercole, 65.61 (43-26)
Ht 12: Batchelor, Richardson, Alden, Gustafsson, 66.83 (47-28)
Ht 13: Nicholls, Adams, Korneliussen, Kennett, 65.61 (50-31)
Ht 14: Gustafsson, Woodward, Gathercole, McGowan, 68.88 (51-36)
Ht 15: Adams (b), Batchelor (r), Nicholls (y), Woodward (g), 66.33 (56-37)