Date added: 14 March 2008
Revved up and ready to go!
Official launch of the Speedway Season 2008
After 60 years, most people are considering taking it easy - but not the Swindon Robins.
The 2008 season of Swindon Speedway was officially launched yesterday, in an exciting event at the Abbey Stadium.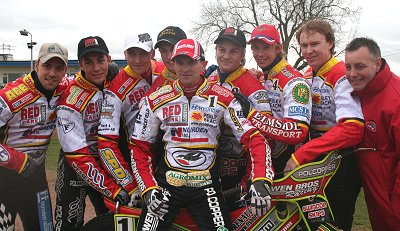 The 2008 Swindon Robins (l-r) Theo Pijper,
Troy Batchelor, Seb Alden, Cory Gathercole,
Leigh Adams, Mads Korneliussen, James Wright,
Travis McGowan, Alun Rossiter
Alun Rossiter and his team are now fully prepared for their assault on the Elite League Title - a crown which they came so close to winning last season.
But it could be the last time they ride at the stadium before the Robins move to a brand new purpose-built stadium.
"This year it's going to be less talk and more action," said Speedway boss Alun Rossiter.
"We came close to bringing the silverware home last year - and with the new young team, the determination is there to bring it home this season."
The 2008 campaign will represent Adams' tenth season of racing for the Robins, adding to his previous years with the club from 1990-92, 1997-98 and 2004-07.

official website
Travis McGowan
New to the Swindon team - another Aussie Travis McGowan.
"I'm delighted to be a part of the Swindon team," Travis commented, "With team's determination and drive it's going to be a great season."

James Wright
James was the second signing for the 2008 squad. At only the age of 21, the youngster impressed Patchett after a superb victory in the PLRC at the Robins' track in September – a performance which fuelled the campaign to sign him.

previous stories
The third Aussie to join the 2008 line-up is Troy Batchelor.
Again only 21 years old the Brisbane born rider caught Leigh Adams' attention when he played a significant part in helping Leszno in the Polish Extraleague win the League Championship.
The Dutchman was the fourth signing that Rossiter made after an impressive tenth successive appearance in the World Long-track Final in 2007.
The Swedish-born rider is back at the Abbey once again following his last appearance in 2006.
After an impressive season in 2006 back in Sweden, Rossiter was keen to see him back at the Abbey to be part of the 2008 team.
Back to represent the Robins once again is fans' favourite Mads Korneliussen.
Despite an injury late last season, Mads is keen to improve his ability and ride proudly for the Swindon Robins.

More info.

Swindon Speedway official website

Speedway Launch 2008 - 14/03/2008