Date added: 21 December 2003
An audience with Jamie Cullum
Jazz star wraps up amazing year with Swindon gig
It's been one hell of year for Jamie Cullum - and the jazz sensation wrapped it up in style in Swindon when he played to a sell-out crowd at the Apartment tonight.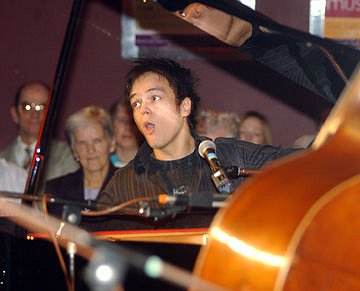 Playing his unmistakable mix of vibrant jazz with a modern, funky feel, the 23-year-old treated the packed-house to a series of songs from his latest platimum-selling album, Twenty Something, as well a number of old favourites - and even the odd festive classic.

Jamie also showed off his amazingingly versatile musical skills by swapping his trademark piano for the drums and even a recorder for a couple of songs.

In all, the set lasted well over alloted time of hour and a half with Jamie returning for numerous encores after shouts of 'more, more!' from the highly appreciative audience.
Restricted to only 300 tickets - which sold out in less than 15 minutes when they went on sale - the one-off gig was hosted by BBC Wiltshire Sound in aid of Children in Need and is believed to have added another £6,000 to the charities coffers.

After his whirlwind 12 months, in which Jamie went from relative obscurity to signing a £1 million pound recording contract with Universal, producing a show-stopping performance at the Royal Variety show, two appearance on the Michael Parkinson programme and selling over 300,000 copies of his brand-new album, jazz's newest star told us how much he was looking forward to a well-earned Christmas break.

"I can't wait to get back to normal!" he told SwindonWeb.

"The last year has been unbelievable, and something I never dreamed would happen.
"The people of Swindon have always supported me so I'm delighted to have played my last gig of the year in front of so many of the people who helped me get where I am now," he added.

All pictures copyright Calyx

An audience with Jamie Cullum - 21/12/2003
Win A Signed Album
We've an autographed copy of Jamie Cullum's latest to give away...

21 November 2009