Date added: 31 March 2009
Bring on Peterborough!
Swindon Wildcats coach Ryan Aldridge ready for play-offs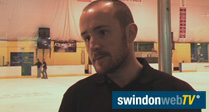 Swindon Wildcats v
Peterborough this weekend
This weekend will see the Swindon Wildcats take to the ice for their play-off match against the Peterborough Phantoms.
The Cats will face the title favourites at the Link Centre this Saturday at 5.45pm.
But despite being drawn against the League toppers - Wildcats coach Ryan Aldridge said the team are ready for the challenge.
"Peterborough are one of the top three teams that I wanted us to get," Commented Ryan.
"I didn't want us to face Milton Keynes and Guidford as they have Olympic size Ice Rinks, where as Peterborough has the same size as the Link Centre.
"We know how tough they are, but play-off hockey is different to regular hockey, it's alot quicker and definitely alot more aggressive."
"So, if we can get a two goal lead here and take it back to their turf I'm sure we can do damage to them their too."
Swindon Wildcats
Follow the Wildcats with us - news, results and videos throughout the season...