Date added: 07 September 2009
Wildcats Press Launch 2009
The Cats reveal all ahead of the 2009/10 season
With the 2009/10 ice hockey season just around the corner we made a trip to the Link Centre to meet up with the new Swindon Wildcats team.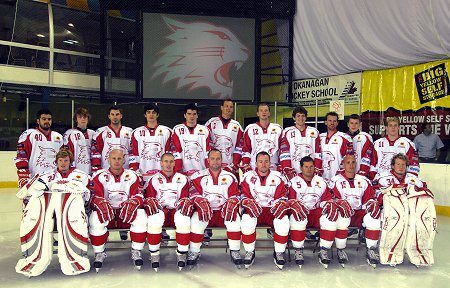 the 2009/10 Swindon Wildcats team
With some new faces joining the team we put the lads in a SwindonWeb hot seat special to get the Cats to reveal all.
So have you ever wondered who's the biggest joker? Or who will be the biggest teachers pet? Watch our video above to find all the answers.
And to celebrate the new season we've teamed up with Swindon Wildcats to offer one lucky person a chance to win the following fantastic prize.
To go in the "BEST SEATS IN THE HOUSE" in Association with Easy Living Furniture
Entry for 3 people Food and Drinks for 3 people
Complimentary Programmes

The chance to Drop the Puck to officially start the 2009/10 Wildcats Ice Hockey Season and receive a picture of the Ceremonial Puck Drop
All you have to do to be in a chance of winning is answer the easy question below...
photos by Calyx
Where do the Swindon Wildcats play their home fixtures?

Wildcats Press Launch - 07/09/2009
Swindon Wildcats
Ice, ice, baby! Links for the latest ice hockey action at the Link...