Date added: 15 October 2008
N-ICE gesture
Wildcats get their skates on for the community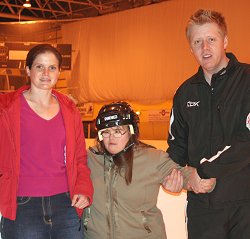 Wildcats boss Pete Russell with
Amy Hibberd from One Step Ahead
alongside one of those
learning to skate
The Swindon Wildcats are normally know for being part of a fast-paced and physical sport of ice hockey - but today they took time out to help others how to skate.
At the Link Centre this week, team manager Pete Russell joined his players to launch 'Wildcats in the Community', an initiative to teach local school children and adults with learning disabilities how to enjoy some time on the ice.
"We did it as a trial last year and it was so popular we had to schedule it into the curriculum this year," commented teacher John Dickins, who brought along a number of children from Chiseldon Primary School.
"It's superb to see the Wildcats commitment beyond the club - and giving something back to the community."
"We've been coming here for six weeks and the Wildcats have been fantastic," said Amy Hibberd from One Step Ahead day centre for adults with learning difficulties.
"We're so pleased with the way the sessions have been going," said Ben Humprey, ability sports development officer, Swindon Borough Council, who helped arrange the sessions.
The Wildcats are next in action on Saturday at the Link Centre, when they take on Bracknell Bees. Face-off is at 7.45pm.
Swindon Wildcats
Ice, ice, baby! Links for the latest ice hockey action at the Link...