What a scorcher!
Yes, believe it or not, there is a beach in Swindon, and a blue flag one at that.
And with the temperatures rising nicely, the opportunity to have some fun on the water at Cotswold Water Park (and in it) is surely too good to miss.
A brand-new AquaVenture Park is now open at Cotswold Country Park & Beach.
And while you're at it, no bombing either. Ahh, the delights of an afternoon down at the local swimming baths. Sadly none of which are open-air in Swindon anymore unless you're happy just splashing about at Coate Water.
It may not be completely open-air like it used to be, but, both sides of the pool building do retract, opening on to sun terraces.
And there's even a diving board for those who are a little more adventurous.
A place where you can rediscover your inner youth when sliding down the Domebusters.
And while your there why not enjoy a Turkish bath!
It's an ideal way to unwind both your body and mind, relieve stress, improve blood circulation and muscle tension whilst cleansing the skin - we're in!
There are also fun 'float' sessions to keep the children amused.
With a 25 metre pool, the centre has a great timetable of activities to meet every swimmers needs!
Check out their website below for more details.
The pool is also available for Party Hire at the weekend.
For more information visit the Cricklade Leisure Centre.
Not the sort of places you can just turn up with a towel and trunks and pay a couple of quid, but more pools where you can enjoy a swim include a number of private members clubs, including:
Yes, we know. Swindon is a good 80 miles from the south coast, but hey, it could be worse. We've got the Thames just down the road at Lechlade and some pretty spectacular lake-side places to enjoy.
Sure to be packed when the summer sun's out, down by the riverside in Lechlade is a great place to spend a afternoon soaking up some rays - and maybe a swim.
You can also rent rowing boats too and canoes if you fancy a paddle down the river.
Some even start jumping into the Thames from halfpenny bridge when it gets too hot, not that we don't recommend that sort of behaviour, of course (see link below for bridge jumping gallery).
Or, if you would prefer to watch it rather than participate, why not sit in the garden at The Riverside, Lechlade.
Voted 'Swindon's favourite place', we would like to recommend a splash around in their paddling pool - but it's shut!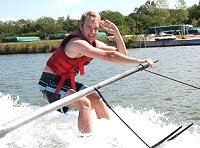 You've probably had a go on holiday, so why not laugh at your mates getting thrown in to the water here in Swindon!
Not just for kids, this is another massively popular activity and brilliant fun for a birthday, stag, or hen party or if a group of friends just fancy an afternoon getting wet.
The 12-person watersled is brilliant!
You can learn to windsurf, sail, kayak or canoe, have a go at raft building - and even learn how to drive a powerboat!
Remember the rules when you're having a swim, especially if doggy paddle's the best you can do.
Sip Back & Relax!
It's the Costa del Swindon! Perfect for enjoying a drink in a Swindon pub garden - HERE'S THE BEST