Election Time 2010
Our guide to the General Election 2010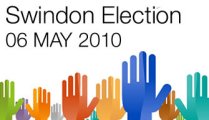 Thursday 06 May is the big day - the General Election 2010.
And this section is all you need to know for who's who and what's what in both the North and South constituencies incl. history and videos.
As you can see, we have already covered the recent visits of both the Prime Minister Gordon Brown and the Conservative leader David Cameron to Swindon, plus a number of other big political names all doing their bit to bolster support for their parties.
Plus, of course, we have also asked the obvious SWTV vox pop question - what would you do if you were Prime Minister? The results of which may surprise you!
Swindon Election 2015
Both Conservative MPs re-elected with increased majorities + ELECTION NIGHT LIVE

08 May 2015

Election Q&A
The Royal Oak Bishopstone hosts a Q&A with the party political candidates - 17 APRIL

No Time For Tapas
ONE MONTH TO GO: Miliband is back in Swindon - and this time it's at Los Gatos - SWTV GRAB A WORD

07 April 2015

Election Countdown
VIDEO: Harriet Harman's pink battle bus rolls in to town to support local Labour candidate's fight for Swindon children's centres - WATCH INTERVIEW

05 March 2015

Nick Clegg in Swindon
Deputy Prime Minister stops by to sign £129 million growth deal - WATCH VIDEO

18 December 2014

BoJo in Swindon
Boris Johnson joins local MPs at Nationwide (oh yes, Obama due in today!) - GALLERY

02 September 2014

Cheeky!
Opportune advertising raises a laugh at Bruce Street Bridges...

05 May 2010

Who is Michael Wills?
A simple question, we thought? Surely everyone knows he's our North Swindon Labour MP?....

Order! Order!
Commons telling off for Swindon MP Anne Snelgrove...

18 March 2009

The direct approach
Conservative leader David Cameron answers questions in Swindon - watch video...

10 July 2008

What a Vic-Tory!
Conservatives increase majority on Swindon Borough Council...

02 May 2008