Christmas Guide 2008
Don't get in a festive fret! We've the ideal Christmas guide right here
we'll be adding to this guide throughout the coming weeks, so this isn't everything. Extra shopping tips, events and those little bits of advice that might just make the Christmas season more bearable!....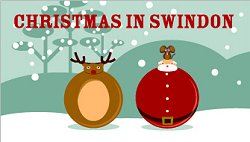 All the stuff-in' Swindon you need:
Isn't it great to know that Christmas is just around the corner.

It's that time of year when we all have the perfect excuse to do everything in excess: eat too much; drink too much; spend too much and laze about too much.

And that's just on Christmas Day itself!

But the festive period isn't just all about the 25th - it's the run up that makes it such a special time of year.

For adults it's a chance to party and generally indulge; and for kids it's the thrill of events like the switching on of the Christmas lights in Swindon Town Centre and Old Town; seeing Santa in his grotto; singing carols; and, best of all, trying to find where mum and dad have hidden away their 'big' present.

And to make things things even better, we've put together this guide highlighting all the things you need for the festive period ahead.
For Christmas in a tick - just click!...