Date added: 19 May 2014
35 Years on from Breakfast in America
Profile of Swindon's Rick Davies
To coincide with the 35th anniversary of the band's US number one hit album, Breakfast in America, we profile the man who helped put the 'super' in Supertramp - Swindon's Rick Davies.
the release date of Supertramp's
number one album
Breakfast in America,
featuring Rick Davies on the back-cover
spilling sugar over the good old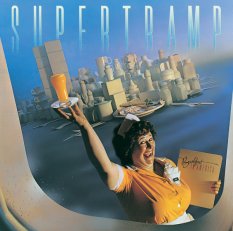 Davies was the founder of the group and played keyboards, harmonica and melodica on many of their records, even though his childhood days in Swindon were as a drummer.
Unusually among European bands, Supertramp were, if anything, even more popular in America than on this side of the Atlantic, and Rick eventually not only took up residency in the United States - first in California, later in Long Island - but is now a US citizen.
It's a far fling from his early life in Swindon.
He was born on July 22, 1944, at the family home of Betty and Dick Davies, at the bottom of Eastcott Hill (number 43), a stone's throw from Swindon Town Hall.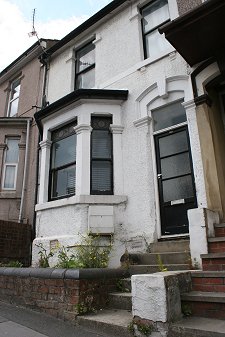 43 Eastcott Hill, Swindon
Betty was well known in Swindon, even before Rick made a name for himself, as she ran a hairdressing salon called Anne's.
When she retired and finally closed her Regent Circus shop in 1979 - coincidentally the year of Supertramp's greatest album - she had been hairdressing for half a century.
Rick's father, Dick, a former Merchant Navy man, died in 1973 - sadly before Supertramp had enjoyed the phenomenal success that was to follow.
Rick went to Sanford Street School (no longer a school but, as Sanford House, now a centre dealing with the administration of education in Swindon) and, according to mum Betty: "Music was the only thing he was any good at at school."
His first musical stirrings were at the age of eight, when his parents gave him a secondhand radiogram which included a few records left by the previous owner.
Among them were Drummin' Man by drumming legend Gene Krupa, and, in Rick's owns words, "it hit like a thunderbolt".
"I must have played it 2,000 times," he said. "That was it."
A friend of the family made Rick a makeshift drum kit out of a biscuit tin, and at the tender age of 12 he joined the British Railways Staff Association's Brass and Silver Jubilee Band as a drummer.
Drums were - and still are - his passion.
In an interview in 2002 he said: "As a kid, I used to hear the drums marching along the street in England, in my home town, when there was some kind of parade, and it was the most fantastic sound to me.
"Then, eventually, I got some drums and I took lessons. I was serious about it... I figured if I could do that - I mean a real drummer, read music and play with big bands, rock bands, classical, Latin, and know what I was going to do - I would be in demand and my life was set... But, of course, it didn't work out that way. Eventually, I started fiddling with the keyboards, and that seemed to go over better than my drumming, for some reason. So you've gotta go with what people react to."
He never did have lessons for keyboards, but, according to Betty, "taught himself most of what he knows about music".
The Davies' household was unpopular with the neighbours because one day they received a visit from the local council's noise abatement officers, following a complaint.
Maybe the anti-social aspect of drumming inadvertently turned him into a pianist. The drums must have been the problem because Rick's piano practice was mostly at his aunty's house in nearby Horsell Street.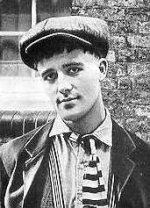 By 1959, his attention had been captured by rock 'n' roll, and he joined a band called Vince and the Vigilantes, but in 1962 and now studying in the art department at Swindon College, he formed his own band, called Rick's Blues.
The drumming duties were passed to - of all people - Ray O'Sullivan!
Like Rick, he would also later drop the drums in favour of the piano, adopting the stage name Gilbert O'Sullivan and scoring a string of hit singles.
Another close friend was Ken White, the Swindon artist who later earned international fame for his work for Richard Branson and as a mural painter. The trio having lived together in a house in London in the early '60s.
Rick's Blues was disbanded and any hopes of any artistic career were put on ice while Rick took a job as a welder at Square D, a firm making industrial control products and systems, which had a factory on the Cheney Manor Trading Estate in Swindon.
He 'loathed' it.
But his musical aspirations remained and, in September 1966, he joined a band called The Lonely Ones, playing organ.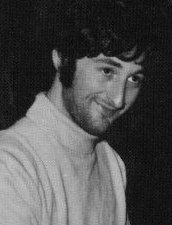 He later confessed that he lied about his abilities to get into the group, admitting he couldn't actually play the organ at the time, but it was the start of Rick's professional music career, and his welding days were over.
The following year saw The Lonely ones play tours in Rome and Geneva, and in July 1967 they were re-named The Joint.
Their work included recording scores for low budget German feature films, but the band were struggling, and Rick was living off soup until they met the Dutch millionaire Stanley August Miesegaes ('SAM'), who became a financial backer and manager.
They also signed to the Robert Stigwood Organization, led by one of the most successful impresarios of the era.
Bolstered by continuing success and recognition on the continent - they appeared on Swiss TV! - Rick decided to form a new band and returned home to place a small ad in the music magazine Melody Maker in August 1969, offering a 'genuine opportunity'.
Roger Hodgson was duly auditioned and, despite their contrasting backgrounds – Rick's working class upbringing and Roger's public school education - they struck up an instant rapport and formed a band called Daddy, which was renamed Supertramp in January 1970.
Though other members came and went over the years, Davies and Hodgson were the core of the group and its driving forces.
Supertramp became one of the first acts to sign to the emerging A&M Records, and by the summer of 1970 they had recorded their first album, simply called Supertramp, released on July 14. Just 13 days later, they played at the now legendary Isle of Wight Festival.
But this was to be no fairytale rise to stardom.
The album - especially by Supertramp's later standards - flopped.
Guitarist Richard Palmer-James quit, and drummer Robert Millar suffered a nervous breakdown following a disastrous tour of Norway.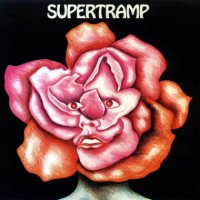 the self-named Supertramp
A second album, Indelibly Stamped, earned the band a cult following but sold even less than their first effort, and Supertramp continued to struggle. It was to be 1974 before they made their real breakthrough.
Former guitarist Richard Palmer-James later explained: "I admire Rick and Roger greatly as performers and songwriters, but most of all I admire them for not giving up in the early Seventies.
"They worked very hard indeed for their success, which came after five difficult and frustrating years."
Their reward came with Crime of the Century, their third album, which finally brought them critical and commercial success when it was released in 1974. It reached number four in the album charts and produced their first top 20 single, Dreamer, which made number 13 in the UK.
Even more importantly, Supertramp began to make it big in America.
By 1977 they had relocated to the States, and it was there that they recorded their best-selling album, Breakfast in America. A seminal work that reached number three in the UK, and top of the charts in America.
But Rick hadn't forgotten his Swindon roots, and when it was suggested that the band all be pictured reading newspapers for the back of the album sleeve, Rick was duly seen with a copy of the Swindon Evening Advertiser.
Rick Davies on the back cover of Breakfast in America
- the album stayed at number one in
the US charts for 6 weeks
May 19 - June 15, 1979
June 23 - July 6, 1979
The album is reckoned to have sold 19 million copies since its release on 29 March 1979 and represents the pinnacle of the Supertramp story.
Though more success followed, by 1983 Roger Hodgson was ready to move on. His reasons for leaving have been the cause of much speculation, but Hodgson has insisted he did it to spend more time with his family - and, indeed, began working from a state-of-the-art recording studio at home.
But he also admitted there had been friction between his wife and Rick's wife, Sue, who had taken over as the band's manager. However, personal and professional disagreements between Rick and Roger themselves were said to have been exaggerated.
One of the conditions of Supertramp continuing without Hodgson was that none of his songs would be performed, and this proved a source of friction since the split.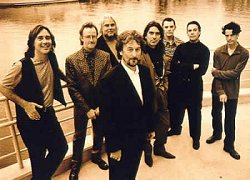 a Rick Davies-led Supertramp
reunited
in 1997 but without
A reunion was mooted in 1993, and when Supertramp reformed in 1997, it was still without Hodgson. Another attempt to bring the two together in 2005 also failed.
And, in truth, Rick's role in the band over the years is sometimes misinterpreted and perhaps understated.
Although he was credited with co-writing Supertramp's hit singles - including Dreamer, The Logical Song and Breakfast in America - along with keyboard/guitar/bass player Roger Hodgson, they were really Hodgson's songs.
As with Lennon and McCartney, who were jointly credited but mostly composed independently, so Davies and Hodgson tended to work on their own projects, and the one who took the lead vocals was usually the main composer. And it was Hodgson - originally from Portsmouth and later from Wantage - who took lead vocal on those best-selling singles.
But Supertramp's success was about much more than singles, sales of which were comparatively modest compared with album sales.
Even their most successful single, The Logical Song, only reached number six in the US and seven in the UK, and this was easily surpassed by critically acclaimed and highly commercial albums, particularly Breakfast in America, which was a best-selling album in several countries.
It is also significant that this was the era of Seventies supergroups playing concerts in football stadiums and other large venues, and Supertramp had as big a reputation for wowing live audiences as almost any other band of the time.
They were undoubtedly one of the top album/live bands of the era.
Although often classified as progressive rock, they developed a distinctive sound which they sometimes called 'sophisto-rock' which, according to Rolling Stone magazine, was 'a carefully arranged, generally medium-tempo amalgam of ethereal electric piano'.
Between 1970 and 2002, Supertramp released 11 studio albums, six of them making the top 20 in the UK. The double live LP, Paris, released in 1980, was also a top ten hit on both sides of the Atlantic, and three compilation albums were top ten hits too.
But even these enormous successes were eclipsed by Breakfast in America, which still stands as a landmark album in the history of rock music.
There is no doubt that, from those early days in a little terraced house in Swindon, came a bona fide Seventies supergroup.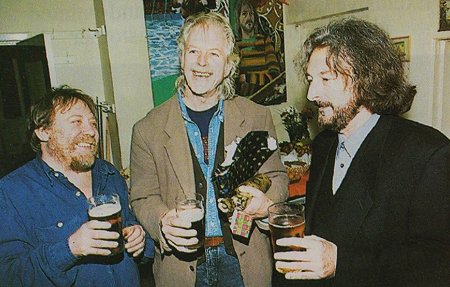 Rick here at The Goddard Arms after jetting in from LA to say happy birthday to artist and pal Ken White
The name comes from a 1908 book by Welsh author WH Davies (no relation to Rick), called The Autobiography of a Super Tramp. It's about the life of a Welsh tramp who travelled to the United States and back.
Sadly, Rick's mum Betty died in late 2008 at a nursing home in Stratton St. Margaret.
Rick travelled every Christmas from his home in the USA to visit her. His last trip back to Swindon being in January '09 to organise a party in her honour for friends and family.
An Album Ahead Of Its Time
50 years on from The Moody Blues' grounbreaking 'Days of Future Passed' written by Swindon Rock God Justin Hayward#madeinswindon

05 November 2017

'Lunchtime' at the Museum
Ken White painting acquired by the Friends of STEAM (so isn't it about time he was recognised at the Swindon Gallery itself?)

29 October 2013

Best Of Swindon 2013
Jahmene Douglas headlined an Oasis concert that didn't disappoint, writes Mallory Nicholson - REVIEW + GALLERY

27 May 2013

Ken White - The Big Picture
Renowned Swindon painter & mural artist hosts a show to celebrate his 70th birthday at The Post Modern Gallery - 23 APR-02 MAY - SEE PICTURES

Chart Topper!
It's a number one single for Swindon singer Josh Kumra - WATCH VIDEO...

22 August 2011

Ken White Exhibition
Local artists work to be exhibited at Great Western Hospital's NHS Foundation Trust...

08 October 2010

Ashes to Ashes
Swindon's connection to the time-warp cop show...

28 March 2008

Supertramp
Swindon's connection to the 1970s supergroup...

Ken White
Swindon's famous mural man and artist...

Justin Hayward
Happy 70th birthday to Swindon's rock God and Moody Blues legend...