Date added: 12 May 2008
Swindon St George 10 Coventry Bears 46
West Midlands Rugby League Conference


RESULT: Swindon St George 10 Coventry Bears 46

Swindon Tries: Neil Greenwood, Darren Johnston
Conversion: Neil Greenwood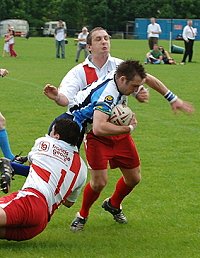 Coventry Bears take
victory in opening day
"Beaten but not overwhelmed" was Swindon coach Geoff Norris' reaction to his side's opening day 10-46 defeat at the hands of Coventry Bears.

Injuries to a couple of key players disrupted the Saints' game, but it was their relative lack of league experience that proved most costly in terms of points conceded.

Still, the signs were encouraging for the new boys, who overcame an early Coventry assault which saw the Bears rattle up a quick 16 points to peg the visitors back to 10-16 by the interval.

The Mayor and Mayoress of Swindon were in attendance and they must have been impressed with the fighting spirit shown by their town's side as first Neil Greenwood and then Darren Johnson crossed over, Greenwood adding a conversion to haul the Saints to within touching distance of their opponents.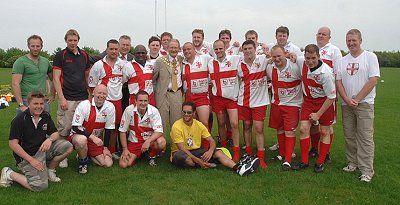 Swindon Mayor Councillor Michael Barnes
and Mayoress Sue Barnes show their
support at the opening game
The second half saw flashes of inspiration from Swindon but the visitors' superior fitness began to take its toll in the afternoon heat and the Bears used their extra experience to good effect, running in 5 more tries without reply.

Telford
Saturday 17 May 2008
West Midlands Rugby League Conference


Picture Gallery