Date added: 10 June 2008
Swindon St George 10pts Bristol Sonics 48
Bristol show Swindon why their the best - but St George continue to perform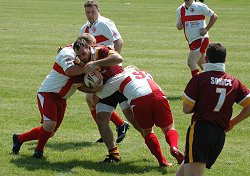 Swindon St George show their
determination against Bristol Sonics
Quick-learning Rugby League rookies Swindon continued their series of improving performances with a sterling effort against table-topping Bristol.

The Sonics emphasised their Championship credentials by racing into an early 10 point lead - but Saints almost replied when a Miles Bennett breakaway saw the youngster run half the length of the pitch, before being hauled down agonisingly close to the line.

More Bristol pressure inevitably brought more points for the visitors, but their haul was restricted by tenacious Swindon tackling, the homesters getting their reward on 66 minutes when Dom Magenty crossed over, Shane Criddle kicking the conversion.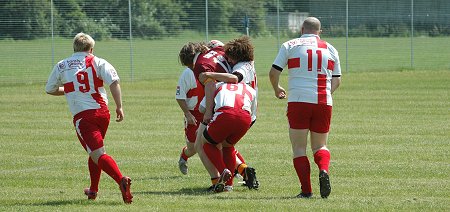 Swindon St George v Bristol Sonics
Two more tries were added by the Sonics before Woody Briggs crashed over for St George in the last minute.
"We face Wolverhampton at home next week and we will be looking to win that one, for sure," said Saints coach Geoff Norris.
"It's just little things now like speeding up the play-the balls that we need to work on in training, but we are definitely getting there. Just look at how we are now completing our sets of six – I'm very confident for the future of this club."