Date added: 28 January 2010
The Royal Wii
Duchess of Cornwall 'bowled over' in Swindon
When the Duchess of Cornwall was invited to Church View Care Home in Stratton, one was probably expecting a cup of tea and a slice of cake.
Instead, she found herself playing a game of ten-pin bowling on the home's latest Nintendo Wii console.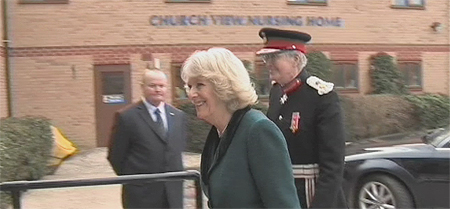 the Duchess of Cornwall at Church View Nursing Home
After a shaky start (and a bit of help from her 73-year-old opponent), she had a go - and even managed to win 9-8.
It's not the usual image you would expect to see at a nursing home, but then they're a pretty active bunch.
The Wii console forms part of a collection of high-tech goodies funded partly by 83-year-old Denis Gleeson who hit the headlines last October after taking part in a sponsored microlight flight.
With all residents on their best behaviour, one lady was particularly excited to see Camilla.
85-year-old Peggy Aucott has been corresponding with the Duchess for nearly 15 years, and got the chance to show off her collection of royal Christmas cards when Camilla paid her a private visit.