Date added: 08 February 2010
Antiques galore!
Dickinson's Real Deal and the Antiques Roadshow in Swindon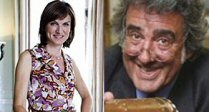 If you've got an attic bursting with hidden treasures, right now
Swindon is the best place to be.
David Dickinson will be bringing his ITV show 'Dickinson's Real Deal' to the Oasis Leisure Centre on 27 February, while Fiona Bruce and the Antiques Roadshow team will be at the Steam Railway Museum on 22 April.
Whether you're looking to turn your antiques in to cash, or you just fancy getting your 15 seconds of fame, now's the time to do it!
Follow the links below for more information.
Flogged it!
Swindon digs out its prized possessions...

14 January 2008