Date added: 08 August 2014
"Fun raising" nights at Swindon Greyhounds
Want to raise money for your Sports Club or Registered Charity?
Are you involved with any type of Sports Club or Registered Charity?
Want a fun night at the dogs?
Want a chance to raise up to £500 for your Sports Club or Registered Charity?
If the answer is YES then Swindon Greyhound Stadium can help.
Fundraising nights at Swindon Greyhounds have raised thousands of pounds for local good causes and sports clubs over the years.
And selected
Friday nights
in 2014 are now available where six clubs can get entry for 100 people -
free of charge.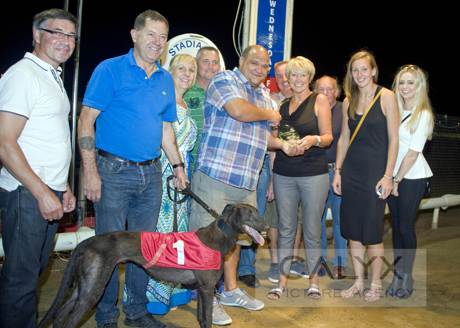 Swindon Supermarine enjoying a recent charity night at Swindon Greyhounds
Each team/club will be supplied (free of charge) 100 tickets and promotional posters for the event.
The tickets can be sold to team members, friends and family for up to £5.00 per ticket, potentially raising £500 for your club or charity; children are free of charge when accompanied by an adult.
The club or charity retain all the ticket money raised. You don't need to sell all one hundred tickets, just as many as you can.
Or why not invite work colleagues?
The tickets entitle the bearer to FREE entry and race card to the stadium and participation in the SWINDON STADIUM CLUB CHAMPIONS CUP.
Alternatively you can sell to work colleagues, friends & family and raise money that way.
For more information and availability contact:
Loretta or Laraine on 01793 721253 at Swindon Greyhounds during office hours between 9.30 until 4.30 to book your charity night and get tickets and posters.