Date added: 23 April 2010
Nicky Hambleton-Jones visits the Outlet Centre
TV star hosts style workshops - SEE OUR PICTURE GALLERY
Swindon shoppers were treated to free style advice at the weekend from UK leading style expert and star of 10 Years Younger, Nicky Hambleton-Jones.

The TV star and top personal stylist hosted free workshops at a spring style event at Swindon Designer Outlet with themes including 'key items for the season', 'creating a classic capsule wardrobe' and 'how to wear black'.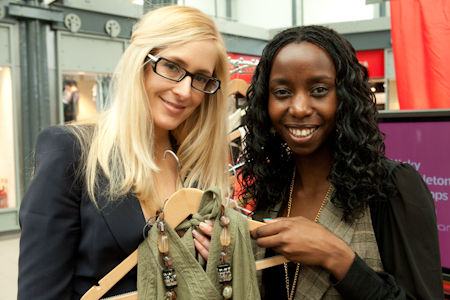 Nicky Hambleton-Jones with the Outlets personal shopper
"My workshops are designed to show people that everyone has the potential to look fantastic effortlessly and boost their self esteem at the same time," said Nicky Hambleton-Jones.

Shoppers also had the chance to have a one to one session with an expert stylist at the Colour and Beauty Clinic, Clothes Clinic and Speed Styling Workshop.
The outlet's own personal shopper Judith Stephenson was also available throughout the day to offer advice.

Nick Williams, marketing manager at Swindon Designer Outlet, said: "Our style event was perfect for people who love fashion and were looking for advice on how to dress for their shape.

"It also gave people a taste of the kind of expert advice they can get with our in house personal shopper service."

Nicky Hambleton-Jones in Swindon - 26/04/2010
Racing into Spring!
Designer Outlet Horseback Fashion Show hails start of races fashion season...

06 April 2011

Spring trends 2010
What's hot in the shops? We ask advice from Val at Juvals...

07 April 2010