Date added: 04 May 2010
Cherie Blair in Swindon
We speak to the former Prime Minister's wife as part of the Swindon Festival of Literature
Political history has many examples of women and wives living in the shadows of men. Cherie Blair is not one of them.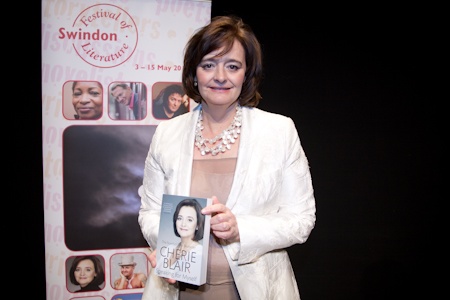 Cherie Blair in Swindon for the Literature Festival 2010

Barrister and QC, specialist in human rights law, and mother of four, Cherie Blair, is well able to step out of the shadows and explain a few things, drawing on a wealth of real human experiences.
Last night she joined Matt Holland on stage at the Wyvern Theatre and in conversation with those in the audience.
She has a newly-published paperback autobiography, Speaking for Myself, which explores family life, the British legal system, and ten years at number 10 Downing Street.

Watch our video interview above...
Dawn Chorus 2010
Earlybirds mark the start of the Swindon Festival of Literature in traditional style - SEE GALLERY...

16 April 2010