Date added: 27 June 2010
Swindon Cycle Festival 2010
A festival of cycling that proves it's a sport for everyone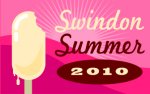 A large festival of cycling with stalls and demos dedicated to proving that cycling is for everyone, no matter what your age, size, ability or mind-set is took place today at Lydiard Park.
There were demonstrations for every aspect of cycling including; road cycling, cyclo-cross, mountain biking, BMX, and also included specially adapted bikes and fun bikes.
There were lots of games, a kids' obstacle course, a cyclocross demo track and a led ride around the park.
See our picture gallery below...
Swindon Cycle Festival 2010
photos by John Knight

Swindon Cycle Festival 2010 - 27/06/2010
Cycling in Swindon
Bikes at the ready! This guide tells you everything you need to know about cycling around Swindon...