Date added: 29 June 2010
Jazz in Swindon throughout July 2010
Our regular gig guide with Swindon's king of all things jazz, Dave Knight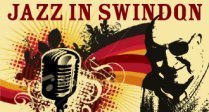 Enjoy a jazz Knight in Swindon:
Nice!
I've been enjoying the smooth sound of jazz for over 60 years; Armstrong, Ellington, Mingus, Charlie Parker, John Coltrane and Miles Davis.... some I've had the privilege of seeing - all I've appreciated.
And although Swindon is hardly downtown New Orleans, we've some very special talent right here on our doorstep - Jamie Cullum et al. And some great regular jazz nights every single week.
Just find a gig and sit back and relax. It's my idea of the perfect evening. I hope it's yours.
Mike Bottrell/Clive Morton Duo
The Kings
Wood Street
Swindon
gig of the week

Jazz in the marquee
Wheatsheaf
Swindon
Free
8.00 - 10.30pm
gig of the week
Kingsdown Arms
Upper Stratton
8.00 - 10.30pm
Free