Date added: 07 September 2010
The Art of Maps
Museum displays tell the story of Swindon's Jurassic past, connections with the Roman Empire and more
The Museum collection at Swindon Museum & Art Gallery has a display of local history, archaeology and geology.
The museum displays tell the story of Swindon's Jurassic past, its connections with the Roman Empire and the more recent social history of this thriving town.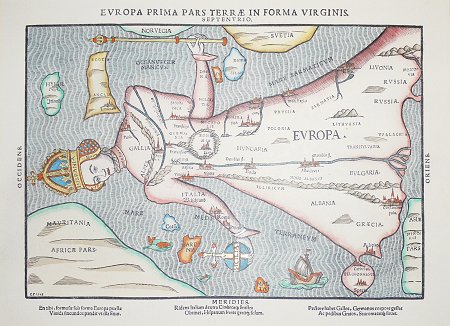 Heinrich Bunting map - just one of the maps on display at the Swindon Museum & Art Gallery

A few years ago at the British Library there was an incredible exhibition called London: A Life in Maps and a more recent one called 'Magnificent Maps', inspired by these exhibitions, Swindon Museum and Art Gallery is hosting a exhibition of its own, The Art of Maps.
Art and Maps have always been closely linked being decorative objects made by cartographers and artists alike.
Artists not only make maps but also look at them using the map itself as inspiration for or part of an artwork. Included in the exhibition is a copy of one of the 18th Century maps of Andrews and Dury, best viewed at Swindon Reference Library in a large bound atlas, showing Swindon equal in size to Wanborough, beautifully bound hunting maps from Lydiard House and plenty of other surprises.
Arts and crafts are included in scroll boxes of journeys, collage, printmaking, sculpture and a beautiful marquetry table by top furniture maker Fred Baier. Heinrich Bunting (pictured above) would have known the world was not geographically like his map of 1581 so he must have been using the map to explain something else.
The exhibition on display is a map itself taking you on an exciting journey around Swindon, the museum and beyond. The Museum is free to look around and on display at the Swindon Museum & Art Gallery, Bath Road, Swindon SN1 4BA
The Museum & Art Gallery is open Mon – Sat 10am – 5pm, admission is free