Date added: 03 September 2011
Wyvern at 40!
Cheggers cuts the cake to celebrate theatre anniversary
Keith Chegwin led a sing-a-long to celebrate the 40th birthday of the Wyvern Theatre today.
This season's panto star was joined by Theatre Director Derek Aldridge and Wyvern Willy plus plenty of well-wishers for a party and a reminisce.
The day included back-stage tours, a chance to pose in Cinderella's carriage, live entertainment and a display of show photos and programmes chronicling the theatre's history.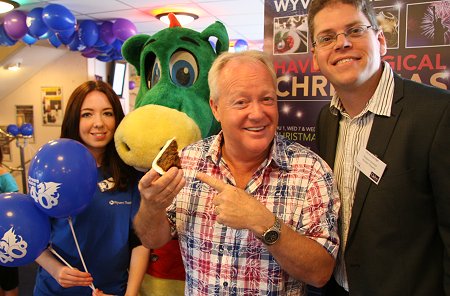 Fancy a slice of birthday cake?:
Keith Chegwin, Wyvern Willy and theatre director Derek Aldridge celebrate the Wyvern's 40th
The Wyvern first opened its doors on 07 September 1971, with Queen Elizabeth II officially opening the theatre as part of what was called the Swindon Civic Centre on the 5th November that year.
Wyvern Theatre's 40th Birthday
03 September 2011
It's Swindon, Ma'am!
And happy 90th! But after 18 years without a stop-off, surely we deserve to get the bunting out just one more time?....