Date added: 14 October 2011
Sleep Out For Heroes
Hundreds set to brave the cold for charity in Swindon town centre - so why not join in?!
On 17 November 2011, hundreds of people will come together to raise money for Help for Heroes by sleeping rough in Swindon town centre for one night.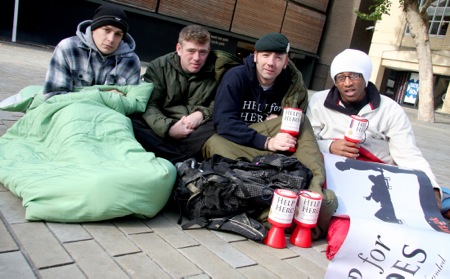 Mike Buss (second right) and volunteers prepare for the big sleepout

The event, which will follow the town centre's official Christmas lights switch-on, is designed to raise awareness of the thousands of ex-service personnel in Britain suffering from Post Traumatic Stress Disorder (PTSD) – many of whom are homeless.

It is estimated that as many as 17,000 former soldiers are currently afflicted with PTSD, with that number expected to rise as high as 100,000 within the next decade.
Mike Buss

One such sufferer is the event's organiser, Mike Buss, who developed the disorder after being discharged from the British Army following an injury sustained while on duty in Northern Ireland.

He commented: "Obviously this is a cause that is very close to my heart, and I would be delighted to see lots and lots of people come out to support the event in Swindon town centre.

"It should be a great atmosphere down by the Big Screen, especially with the Christmas lights on and hopefully people will be able to enjoy themselves.

"I would go to Afghanistan tomorrow and stand side by side with my fellow soldiers if I could, but I know that's not possible so I do what I can back here.

"It's crucially important to raise money and awareness for wounded soldiers, and to tend to their needs when they come home. These guys are heroes, and they should be treated as such and not left on the streets of our cities.

"This is why I am hoping an event such as this can really put the cause at the forefront of people's minds."

The event has been organised by Mike Buss, along with fellow ex-soldier Gary Bradshaw, as well as Julian Hogan and Zaqarii Casper Cryda from his personal training company Beyond Impossible.

The team will be collecting donations all evening, and are encouraging even those not involved in the entire sleep-out to give what they can to the cause.
Breakfast provided

Those taking part will congregate under the BBC Big Screen in Wharf Green from 8pm until 8am where they will be provided with breakfast, courtesy of Millets in the morning.

If you would like to join the sleep-out then please contact Kirsty at inSwindon on 01793 485 523 or email events@inswindon.com and register your place.


Braving The Cold
Highworth sleep out raises hundreds for Help for Heroes...

21 November 2009