Date added: 21 March 2013
Food, Farming & Formula One
GP legend Jody Scheckter talks racing & business in Swindon
Diners at the Royal Oak in Bishopstone were treated to a fascinating insight into the life of Formula One star-turned organic farmer Jody Scheckter last night.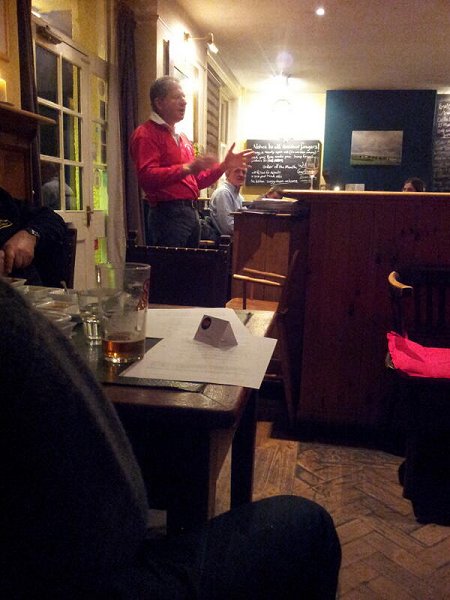 Jody Scheckter at The Royal Oak in Bishopstone
The former world champion, who now owns and runs nearby Laverstoke Park Farm in Newbury, was invited by the Royal Oak's owners Tim Finney & Helen Browning to talk about his incredible career in F1 and his heartfelt passion for producing what he describes as ".... the best-tasting, healthiest food I can, without compromise."
His organic farm has won numerous awards for its produce but Scheckter was happy to admit that sometimes he feels it was more straightforward negotiating his driving contract with the legendary Enzo Ferrari than it is dealing with some people in the modern food business.
"And that's saying something, I can tell you!" he joked.
During the evening, which included guests enjoying a three-course menu of Laverstoke Farm buffalo mozzarello, lamb, cheese & ice cream, the 1979 champion also recounted his experiences and answered questions on racing and competing - both on and off the track - with the likes of James Hunt, Ronnie Peterson, Niki Lauda and Ferrari teammate Gilles Villeneuve.
"They were dangerous times and not all of us got out (of F1) in one piece. I was lucky enough to do so, but I tend not to look back too much.
"I'm happy to talk about F1 but more especially about farming, because that's what I'm the most passionate about now."
A short-clip of James Hunt & Jody Scheckter on the podium
after the British Grand Prix 1976
Drive It Day
Classic cars and great food at The Royal Oak, Bishopstone - 24 APRIL

Classic Car Day
Head along to the Royal Oak, Bishopstone for a feast of classic motoring - 26 APRIL

Pat Murphy at The Royal Oak
Supper with the BBC Radio 5 Live commentator & reporter talking cricket, the Ashes debacle and Brian Clough! - 07 APRIL