Date added: 22 May 2013
Beat It!
It's Fiddes, Fedoras & Foxx's in Swindon to promote Jackson tribute
As part of a promotional event for "Ben: The Ultimate Michael Jackson Tribute", who appears next month at the Wyvern in Swindon, the King of Pop's former bodyguard Matt Fiddes also made an appearance.
Adding to the mix was an incredibly rare - and autographed - fedora hat, once owned by Jackson himself.
Swindon-born Fiddes, who was accompanied by his singing star girlfriend Monique Foxx, was once well known as a close friend of the Jackson family especially Jermaine and Tito Jackson.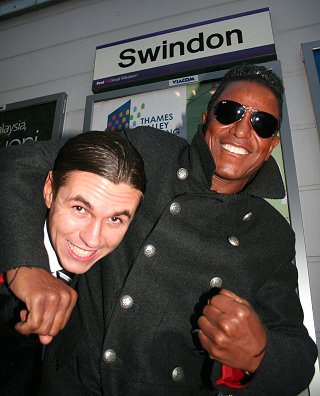 Jermaine hits town!:
Jackson Five star Jermaine Jackson
with close-friend Matt Fiddes
He has also claimed to be the biological father of one of Michael Jackson's children.
Holy Rood Turned Hollywood
South African star & wife to Michael Jackson's former bodyguard performs at Swindon school - SEE PICTURES + WATCH VIDEO