Top live music venue in Swindon...

Address: 26 Greatfield, Nr. Hook, Swindon, SN4 8EQ
Phone: 01793 778304
Website: http://www.riffsbar.com
Solam Festival 2012
Summer lovin' & music all in one place - what could be better?
UPDATE: Due to unfortunate circumstances SOLAM 2012 will now be held at Riffs Bar
Friday 10 - Sunday 12 August 2012
The fourth annual Summer Of Loving And Music Festival is back - and it's bigger than ever!
With two stages, one main & one acoustic, this summer festival brings together some great local & national talent, including the likes of: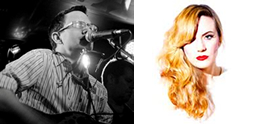 The Bateleurs & Alice Offley

Alice Offley
and many more!
If live music's not your thing, there's also plenty of other entertainment on offer, such as circus skills & drum workshops and a wide variety of stalls selling food, clothing, jewellery.
For more information please visit the Solam 2012 website via the link below.
Day
Date
Time