Live theatre and performance venue...

Address: Theatre Square, Swindon, SN1 1QN
Phone: 01793 524481
Website: https://swindontheatres.c...
The Play That Goes Wrong
The West End smash hit comedy comes to the Wyvern
2.30pm matinees on Wednesday & Saturday

Review
And there's no surprise - our Mum about Town, Kelly, was in hysterics!
The multi award-winning smash hit comedy 'The Play That Goes Wrong' had the Wyvern Theatre audience laughing out loud last night (Monday 11th June) when it started its six day run in Swindon.
This production, which is playing on Broadway and enjoying its 4th year in the West End, was a very different show to the usual one I enjoy but the constant laughter coming from many people in the packed audience was infectious and got me giggling fairly quickly.

The Cornley Polytechnic Drama Society are behind this show which is a 1920s mystery called 'Murder at Haversham Manor' - and as soon as it started, someone from the audience was asked to come onto the stage to help hold parts of the set that started to comically fall down in a fashion which made the task nearly impossible.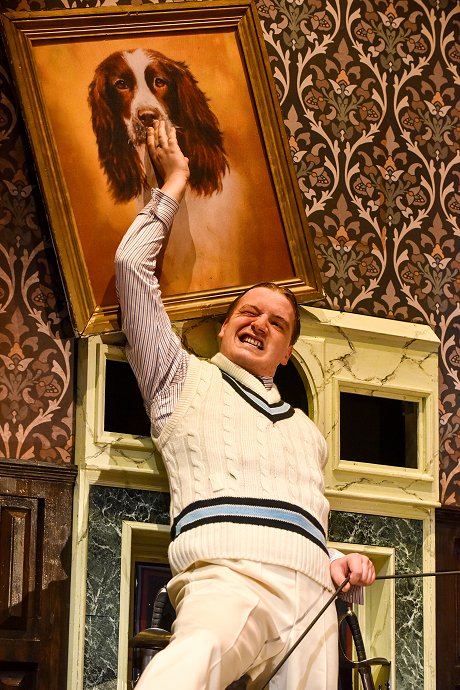 It was extremely clever how parts of the set (which was portraying a stately home that consisted of detailed and opulent furnishings) gradually but very obviously started to come apart throughout the evening and always in a comedic and timely manner!
As the show progressed, more and more disasters occurred and the audience gasped and shrieked with delight when the bigger bangs happened and members of the cast seemingly got knocked out by flying objects.
This is a tale of mischief and strange goings on and once the second half started, I really got into the flow of the production.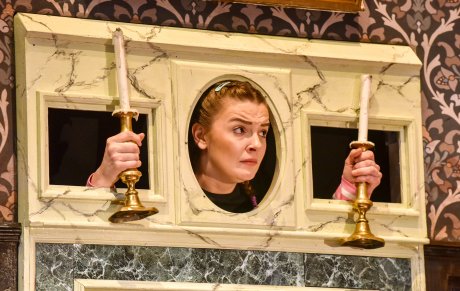 I think it took me longer than normal to get on board with the style of this play purely because I am not used to seeing this type of theatre but now that I have – I would honestly say that you should try it if you haven't before.
The performers were all extremely engaging and projected their voices to the right amount but it was Bobby Hirston (who played Max) and Gabriel Paul (who was Trevor) that appeared to offer the biggest amount of amusement to the audience.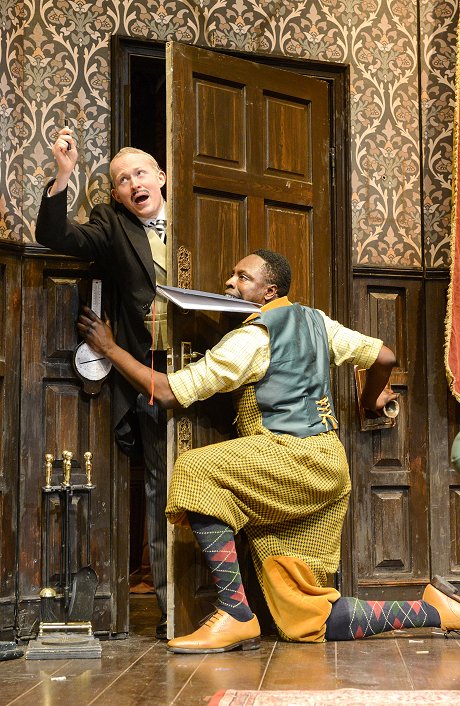 Bobby's facial expressions throughout the evening were unmissable and Gabriel seemed to command attention whenever he was on stage (and the fact that he lost his Duran Duran CD box set and kept mentioning it was highly amusing.)
It is hard to imagine how the cast managed to keep straight faces when everything was going horribly wrong on purpose but that was clearly part of the charm. They were the ultimate unprofessional professionals and Swindon loved it!
The show runs until this Saturday 16th June.
Fawlty Towers meets Noises Off in this multi award-winning smash hit comedy, now playing on Broadway and enjoying its 4th year in the West End.
The Cornley Polytechnic Drama Society are putting on a 1920s murder mystery, but as the title suggests, everything that can go wrong… does!
As the accident prone thesps battle on against all the odds to reach their final curtain call, hilarious results ensue!
Day
Date
Time
MON
11/06/2018
19:30 - 22:00
TUE
12/06/2018
19:30 - 22:00
WED
13/06/2018
14:30 - 17:00
WED
13/06/2018
19:30 - 22:00
THU
14/06/2018
19:30 - 22:00
FRI
15/06/2018
19:30 - 22:00
SAT
16/06/2018
14:30 - 17:00
SAT
16/06/2018
19:30 - 22:00