Live theatre and performance venue...

Address: Theatre Square, Swindon, SN1 1QN
Phone: 01793 524481
Website: http://www.wyverntheatre....
swindonweb.tv® bringing you all of our top stories on video
It's Buddy brilliant!
We interview Oliver Seymour Marsh about The Buddy Holly story
Fifty years ago, the man who changed the face of popular music tradgically died in a plane crash aged 22.
The Buddy Holly story tells of the three years in which he became the World's top recording artist - and it's at the Wyvern Theatre this week.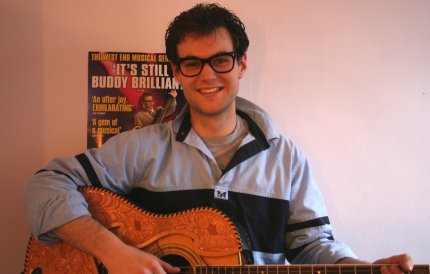 Oliver Seymour Marsh who plays Buddy Holly
at the Wyvern Theatre
With opening night tonight, we went down to meet Oliver Symour Marsh, who plays Buddy, to see how he feels about playing such a rock and roll legend.
"It's a great musical and if you love Buddy it's two terrific hours of Buddy Hollyís greatest hits including: Thatíll Be The Day, Peggy Sue, True Love Ways, Oh Boy, Heartbeat, and many more," Oliver told us.
"It's great playing the character, and I'm looking forward to playing in Swindon all this week."
Doors:
Mon - Thur 7.30pm Fri - Sat 8pm Sat 5pm
Please see the Wyvern Theatre website for more information.
Day
Date
Time
MON
23/03/2009
19:30 - 22:00
TUE
24/03/2009
19:30 - 22:00
WED
25/03/2009
19:30 - 22:00
THU
26/03/2009
19:30 - 22:00
FRI
27/03/2009
20:00 - 23:00
SAT
28/03/2009
20:00 - 23:00
Murder with Love
We speak to Leslie Grantham aka 'Dirty Den' ahead of his forthcoming appearance at the Wyvern - WIN TICKETS!...