Now the home of Post Modern Art Studio...

Address: Theatre Square, Swindon, SN1 1QN
The Post Modern Launch
Swindon art group opens new gallery and studios in town centre.
The dream of creating an affordable art gallery and studio in the centre of Swindon has come true.
A group of artists have now turned The Old Post Office, Theatre Square, into The Post Modern Gallery and Studios.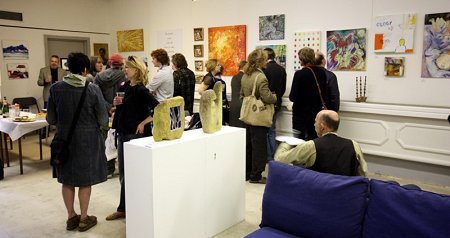 Swindon art group opens new gallery and
studios at former Old Post Office
Every Saturday between the 21st March - 11th April 2009 Artsite will be opening their doors for a series of events to Launch the Gallery.
There will be an eclectic mix of work on show including a new exhibition, performances, big draw event, worshops and food from Taste Cafe.
Drop in and make your mark, learn a new skill, or simply soak up the work from some of Swindon's best artists. At the very least, you will see The Old Post Office transformed into a hub of creative excitement.
Forthcoming events:
Sat 28th March:
New exhibition and FREE taster workshops (mosaics, 'basic Banksy', drawing with different mediums & collage).
Sat 4th April:
New exhibition.
Sat 11th April:
New exhibition.
photos by Lynette Thomas- Artkore Images

Post Modern Launch - 23/03/2009
Day
Date
Time