Theatre, cafe and library in Old Town...

Address: Devizes Road, Old Town, Swindon
Phone: 01793 614837
Website: https://swindontheatres.c...
The Very Snowy Christmas
Blunderbus are delighted to be touring with their magical, musical winters tale, based on the best-selling book by author Diana Hendry and illustrator Jane Chapman.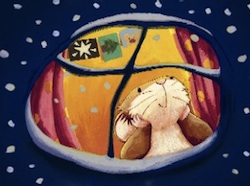 With live music, beautiful puppets and a stunning snowy set, which comes to life before your very eyes, this charming festive tale will warm even the coldest of hearts.
On Tuesday 06 and Wednesday 07 December at 10.30am and 1.30pm
It's the night before Christmas and Big Mouse and Little Mouse are putting up decorations.
Little Mouse scampers out to search for holly but finds big white flakes falling from the sky. "Goodness me!" he cries. "The sky is coming undone!"
Tickets:
£8.00 / Child £6.00 / Family £24.00
To book tickets or for any further information on this event, please visit the Arts Centre website via the link below.
Day
Date
Time